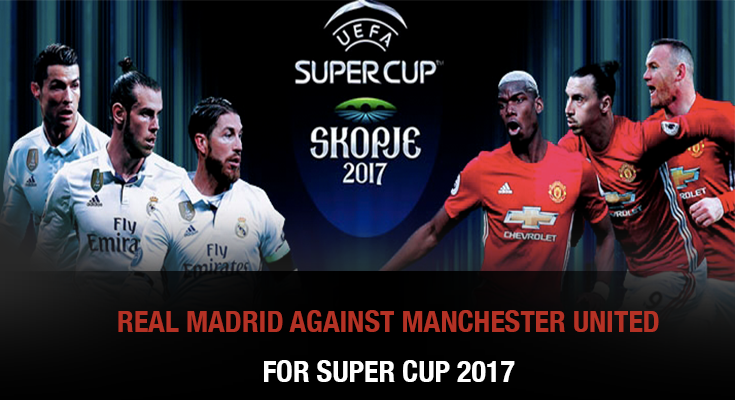 An intense game is coming very soon in our Soccer August Agenda. Two teams that always deliver intense and strong plays and when they meet each other, is providential, imperative and mandatory to watch it and get connected. Real Madrid`s settle line will be Champions Cup 2017 Final with a few new team supporters. And Manchester United will go by a similar star line up. Will take place in Skopie, Macedonia, yes you listened carefully.  Is good to bring this spectacular show to interesting place. Money makers will attend for sure.
Get all the latest Betting and Sport News updates on your social media outlets. Find us on both Facebook and Google+
Real Madrid gets to the Super Cup by winning over Juventus in the last UEFA Champions Cup with a disquieting four to one and becoming the second team with two consecutive finals. Can`t ignore to mention the two goals of Cristiano Ronaldo highlighting their great performance during the whole season. As a soccer fan, have to accept that Real Madrid went into a very builded team with Zidane's coaching skills which are too similar as his soccer playing attributes. Toni Kroos, Isko, Casemiro and Cristiano Ronaldo, of course, understood very well the playing system.
From Online Sportsbook, Casino Betting, Sports Odds to Racebook Gambling, WagerWeb offers you the online gambling options.
On the other side, Manchester United won the UEFA Europa League by defeating Ajax Amsterdam with goals of Paul Pogba and Henrikh Mkhitaryan. Definitely, this team is increasing their soccer after a couple of Champions League failures. The Reds is a classic european team who deserves first position boards and be pushing for trophies. For some reason, they stopped being leaders in England and dropping off big competition.  
Check WagerWeb and find the best online betting site.
Well, soccer boys, let`s wait a little longer to see what happens. Now we need to enjoy saturday`s soccer game at Miami, Barcelona against Real Madrid, for the second time history, these two teams play overseas, there`s none friendly matches between these two. And definitely everybody will be talking or maybe gossiping about Neymar`s arrangement. From his side, will be worried in scoring goals as usual and providing a good preseason game.
Interesting and curious facts: This will be the tenth game between these two teams. Real Madrid has won four, Manchester two and four draws. The white house has scored twenty goals and Manchester six teen. If you let me give a prediction, take Real Madrid all the way.