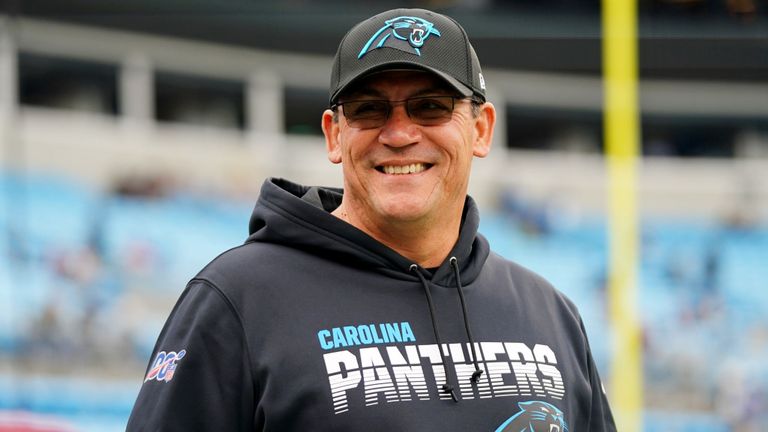 Over Daniel Snyder's time as the Redskins' owner, Washington is where good coaches land to die. Since 2000, when Snyder made Norv Turner the first coach he fired, not one coach has left Washington with a winning record. Even coaches with great résumés like Marty Schottenheimer, Mike Shanahan and Steve Spurrier couldn't do it.
Rivera is up next. The two-time NFL Coach of the Year with the Carolina Panthers agreed to be the next coach of the Redskins, per Ian Rapoport of NFL Network.
Rivera's career with Carolina started slowly, but he eneded 76-63-1 as Panthers coach. He won NFL Coach of the Year in 2013 and 2015. In 2015, his 15-1 Panthers made the Super Bowl, only to come up short versus the Denver Broncos. Rivera was fired during the 2019 season as the Panthers slumped without quarterback Cam Newton.
Rivera's abilities as a leader might give him an opportunity to succeed in Washington. He was a great representative of the Panthers franchise, especially during the Jerry Richardson scandal that led to the Panthers' founder selling the team.
Get all the latest Betting and Sport News updates on your social media outlets.
When Snyder announced he had fired team president Bruce Allen, he said Washington would "reevaluate our team leadership, culture and process for winning football games."
If anyone can reshape that in Washington with Snyder still owning the team, maybe it's Rivera. It'll be a big job, and he's reportedly going to bring in the big guns to get it done.
ESPN's Adam Schefter reported that Rivera is expected to target Jack Del Rio as his defensive coordinator, who has proven results in defensive improvements when he was the head coach of the Jacksonville Jaguars and Denver Broncos.
Washington went 3-13, which wasn't fun, but it means they get the second pick of the 2020 draft. Expect that to be Ohio State pass rusher Chase Young, who looks like a phenomenal prospect. The rest of the roster has a few interesting players. A key is if 2019 first-round pick Dwayne Haskins can develop at quarterback.
Check WagerWeb and find the best online betting site.