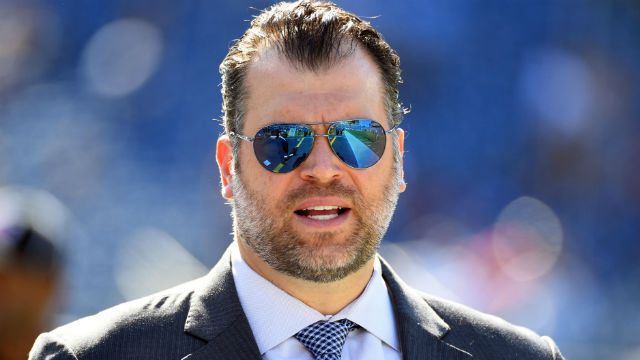 Former Indianapolis Colts general manager Ryan Grigson, who was a senior personnel executive with the Cleveland Browns last season, is joining the Seattle Seahawks' front office as a consultant, according to ESPN's Brady Henderson.
Grigson, 46, was fired from his general manager post with the Colts back in January 2017 with 3 year left on his contract.
A sixth round pick in 1995, Grigson had a very brief NFL career with the Cincinnati Bengals and Detroit Lions, eventually landing in the CFL. He eventually returned to the NFL in 1999 as an area scout for the St. Louis Rams' team that won the Super Bowl, staying in that organization until 2003. Grigson spent the next eight years in the front office of the Philadelphia Eagles, working his way up to Director of Player Personnel before being hired as the GM of the Colts in 2012.
He spent last year with the 0-16 Cleveland Browns as a senior personnel executive and he was not retained at season's end. This is not the first time Schneider has hired a former GM who was widely panned for his move, as the Seahawks hired former Miami Dolphins GM Jeff Ireland as a draft consultant in 2014. Ireland is now the assistant GM for the New Orleans Saints.
Get all the latest Betting and Sport News updates on your social media outlets
The Colts went 11-5 in each of his first three seasons and advanced to an AFC Championship Game but missed the playoffs with 8-8 records in his final two years at the helm.
His missteps with the Colts included trading a first-round pick in 2013 to the Browns for Trent Richardson only to cut the running back two years later after he failed to make an impact, and failing to address Indianapolis' offensive line needs in a timely fashion.
Grigson didn't make a full commitment to improve the offensive line until the 2016 draft, when the Colts used half of their eight picks on linemen. That commitment came only after Luck missed nine games because of injury in 2015.
Check WagerWeb and find the best online betting site.