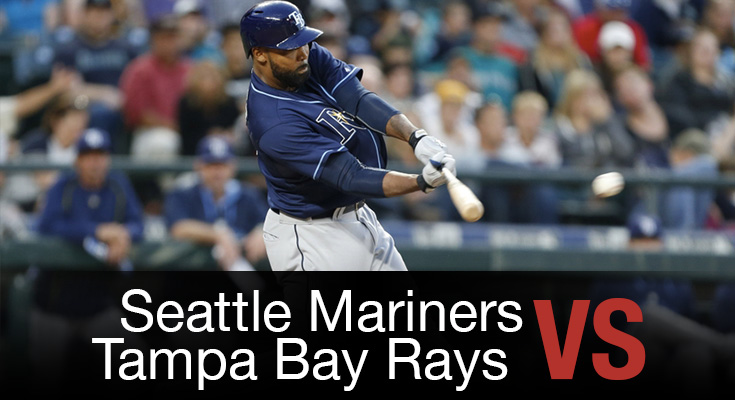 Seattle Mariners (34-29) at Tampa Bay Rays (29-32)
MLB Baseball: Tuesday, June 14, 2016 at 7:10 pm (Tropicana Field)
T Walker (3-6) (3.48) vs. J Odorizzi (3-3) (3.47)
 Taijuan Walker will try to build off of his strong start last week when he and the Seattle Mariners go up against Jake Odorizzi and the Tampa Bay Rays on Tuesday night. In their first series against each other this year, the Mariners were able to sweep the Rays in Seattle.
Get in the action, anywhere, anytime! Check our Live Betting Options!
The Seattle Mariners have fallen from first in the American League West with defeats in seven of ten so a quick turnaround is needed. The Mariners are coming off of a 6-4 loss to visiting Texas on Sunday where the pitching struggled and the offense couldn't make up the difference. M's starter Wade Miley fell to 6-3 with three runs plated on four hits and a trio of BB while Steve Johnson gave up three runs without recording an out. Seattle produced nine hits and walked three times with Leonys Maryin going solo while Robinson Cano went 2-5 with an RBI and run.The Mariners go with Taijuan Walker on the hill for the series opener at Tampa Bay. Walker comes off of his best outing in a 5-0 win versus the Indians in which he tossed eight scoreless innings.
 
Support your Team! Start betting now!
The Tampa Bay Rays have been playing some of their best baseball of the season and it has to continue with the team still under .500. The Rays have won seven of ten after knocking off Houston 5-0 Sunday behind great pitching and a five run 5th. TB starter Matt Moore tossed a two hit shutout over seven innings while whiffing ten to up his record to 3-4. The Rays offense totaled nine hits and walked three times with Mike Mahtook knocking in two while Desmond Jennings drove in a run and scored.Tampa Bay gives Tuesday's start to Jake Odorizzi for his first meeting with the Mariners in 2016. Odorizzi defeated Arizona 6-3 last time out with all three runs plated on five hits and three BB in five frames. 
Notes
Tampa Bay has won 48% (12-13) of its games when leading after seven innings. However, Seattle has won 61% (17-11) of its games when taking a late lead.
The Mariners managed to give up six walks in their last game. They'll have to pick it up against the Rays who are heading in with a 4-2 record against opponents who give up that many walks or more.
When they outhit their opponents, the Rays are 19-5. The Mariners have a 27-7 record when outhitting opponents.
Ranking 21st, Tampa Bay is near the bottom of the league in runs, scoring 255 this season. Seattle ranks in the top five at fourth with 315.
Ranking 11th, Tampa Bay is in the top half of the league for its on-base plus slugging percentage (.747). Seattle ranks in the top 10 at sixth with an OPS of .772.
The Mariners are 22-23 in games where they allow one or more home runs. The Rays are 14-29 when they allow at least one homer.
Get all the latest Sports News and updates on your social media outlets.