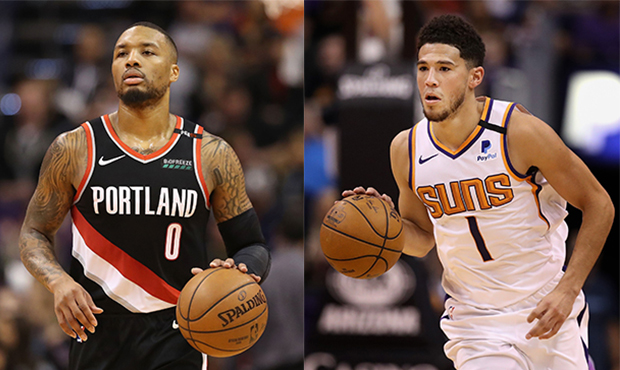 Phoenix Suns guard Devin Booker was among the NBA's biggest All-Star Game snubs and loudest critics of its selection process. As it turns out, the 23-year-old scoring savant is an All-Star after all.
Booker will substitute injured Portland Trail Blazers point guard Damian Lillard in both Saturday's 3-point contest and Sunday's All-Star Game, the league informed on Thursday morning. NBA commissioner Adam Silver had the final say on which Western Conference player replaced Lillard.
Booker will fill Lillard's spot on Team LeBron. That he was not already on the roster came as a surprise. The Suns star's 26.4 points per match currently rank 10th in the NBA, and he is doing so on 50/36/92 shooting splits. Booker is also averaging 6.3 assists and 4.2 rebounds a night. His first All-Star selection cements his status as one of the game's best young players.
Get all the latest Betting and Sport News updates on your social media outlets.
Lillard withdrew from the All-Star Game and 3-point contest after suffering a right groin strain (grade 1-2) late in Wednesday's beat to the Memphis Grizzlies.
He plans to rehab during the break in hopes of leading the Blazers to a seventh straight playoff appearance. Portland currently trails Memphis by four games for the eighth seed.
Although this is his first All-Star Game, Booker has been part of All-Star Weekend in each of his five NBA campaigns. He has been in the 3-point contest three other times, winning the title in 2018 and also competing in 2016 and 2019. He was a finalist in that event as a 19-year-old in 2016, alongside Golden State's sharpshooting duo of Klay Thompson and Stephen Curry.
Booker still holds the 3-point contest records for most points in any round and most points in a final round — he had 28 points in the finals to win the title two years ago. Booker took part in the skills challenge in 2017.
He also scored 25 points in the 2016 Rising Stars game and 17 points when he returned to that game for first- and second-year players the following season.
Check WagerWeb and find the best online betting site.