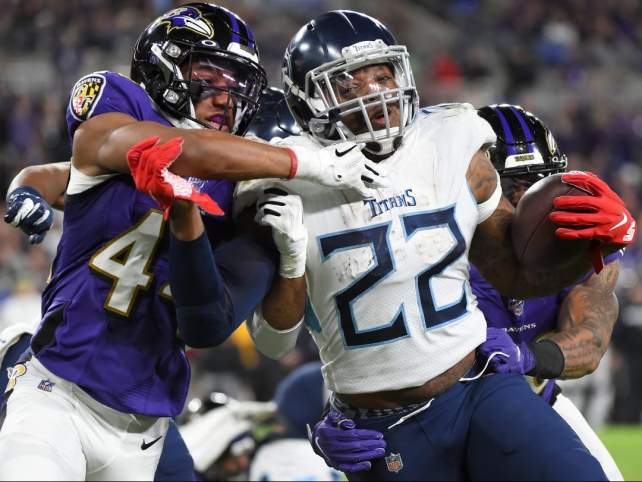 The Titans waited until the 11th hour, but they've secured their rushing king.
Tennessee agreed to terms with running back Derrick Henry on a four-year deal worth $50 million right before Wednesday's deadline, NFL Network Insider Ian Rapoport reported. The team later confirmed it reached a long-term agreement with the RB.
Henry signed his franchise tag tender less than a month after the Titans formally placed it on him before the start of free agency, but that one-year contract that was arranged to pay him $10.3 million will become moot upon signing the new, multi-year deal.
"I want to stay with the Tennessee Titans," Henry said, via the team website. "They are the ones that took a chance on me – 31 teams passed on me on the draft and they selected me. I have a lot of love for Tennessee. I have a lot of love for everyone in that organization.
"And we have grown from the time I got there. (In 2016) we just missed the playoffs, (in 2017) we got into the playoffs and went into the second round. This year we went to the AFC Championship. We have grown as an organization and as a team and I think that speaks volume for the direction we're headed."
Get all the latest Betting and Sport News updates on your social media outlets.
Henry rumbled to the league's rushing title in the final week of the 2019 season, capping a 1,540-yard, 16-touchdown campaign with a dominant 211-yard outing in a playoff-clinching Week 17 victory over Houston.
He proved his worth in the postseason, putting Tennessee's offense on his back to help the Titans to two stunning playoff victories.
Henry rushed 64 times for 377 yards and one touchdown in Tennessee's upset victory over New England and Baltimore before coming back to earth in an AFC Championship Game loss to Kansas City.
Henry's 69-yard outing in the conference title game wasn't his fault, but a result of a Titans offense trying to keep pace with the Chiefs' explosive group and being forced to turn away from the run. It definitely wasn't indicative of his value; without Henry, the Titans simply do not reach the doorstep of the Super Bowl.
As of July 2020, it is wise for the Titans to do what they must to keep Henry, the strongest part of their offense for almost the entirety of his career — even if it took Tennessee two years to realize it.
Check WagerWeb and find the best online betting site.