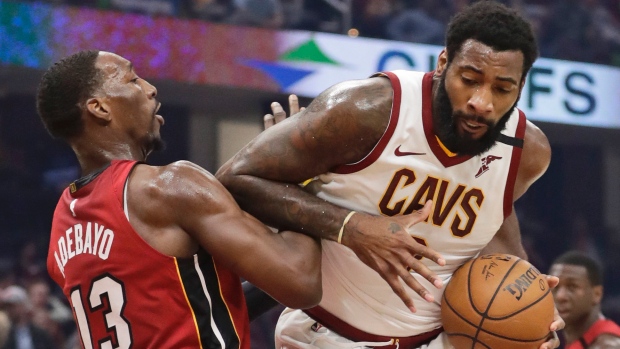 Cleveland Cavaliers center Andre Drummond has ended his silence about his future, saying Tuesday that he plans to pick up his player option that will keep him in Cleveland for another year.
Drummond, acquired by the Cavaliers in February for Brandon Knight, John Henson and a future second-round pick, has a $28.7 million option for the 2020-21 campaign that he needs to officially accept or decline in writing by Oct. 17, the day before free agency is scheduled to begin.
"Yeah, that's going to be pretty hard to give up, so you can count on me being in Cleveland still," Drummond said during a light-hearted, laugh-filled interview on the ESPN podcast Le Batard & Friends — STUpodity. "I definitely will be in Cleveland."
Multiple sources tell cleveland.com the Cavs have not been informed of any decision at this point and don't expect to receive the formal paperwork from Drummond until October. However, both sides have been giving off the impression that they are interested in continuing the partnership, which was interrupted by the coronavirus pandemic on March 11.
Get all the latest Betting and Sport News updates on your social media outlets.
Drummond played eight matches with the Cavs before the league froze.
They went 4-4 with him in the lineup. He averaged 17.1 points and 11.1 rebounds in 28.1 minutes. Because of the Cavs' record — 19-46 — and their place in the Eastern Conference standings, they weren't one of 22 teams invited to participate in the NBA's Disney restart in late July. Still, it was enough to give Drummond a taste of the future.
"I enjoy being in Cleveland," Drummond said. "I think the people there are outstanding. The fan base is super dope. The gym is dope. I love playing there. The coaching staff is good. The team is young, so it's good to work with."
At the time of the stunning blockbuster deal, general manager Koby Altman was unsure of Drummond's plans beyond this campaign. Neither Drummond nor agent Jeff Schwartz, who also represents Cavaliers teammate Kevin Love, gave any indication. But Altman was always fine with either outcome.
Drummond's decision to opt in allows him to become an unrestricted free agent in the summer of 2021 — unless the Cavs and Drummond work out a long-term contract extension. According to sources, the Cavs have internally discussed that possibility. Based on the new offseason calendar, Drummond can technically sign an extension beginning on Oct. 23.
With Drummond making his commitment public, the Cavs can proceed with other offseason plans. Sources say Drummond's decision doesn't guarantee Tristan Thompson's departure. Thompson, an unrestricted free agent this summer, will weigh all of his options. But the fallout from COVID-19 — and the anticipated drop in in the salary cap — has caused plenty of uncertainty, especially for free agents.
Check WagerWeb and find the best online betting site.