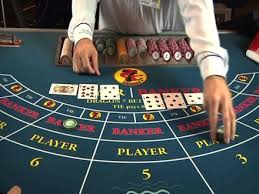 Check WagerWeb and find the best online betting site!!!!
Baccarat is a card game similar to blackjack in some ways, like in blackjack, the cards in baccarat have point values. Tens and face cards have a point value of 0, while all the other cards have a point value equal to their ranking.
Each player gets two cards, and the point values of those cards is totaled. The right digit of that total is the player's score. A baccarat score will always be a number between 0 and 9.
From Online Sportsbook, Casino Betting, Racebook Gambling, WagerWeb offers you the online gambling options
Players receive an additional card based on whatever their score is. If the player has a 5 or less, gets another card. The scores are compared, and either the player or the banker will have a higher score, it's possible that they could tie.
A baccarat player can bet on the player to win, also bet on the banker to win, and also bet on the player and the banker tying.
Choose the bet with the lowest house edge, and never place either of the bets with the higher house edge.
Source: casinogamblingstrategy.org
Get all the latest Betting and Sport News updates on your social media outlets. Find us on both Facebook and Google+!