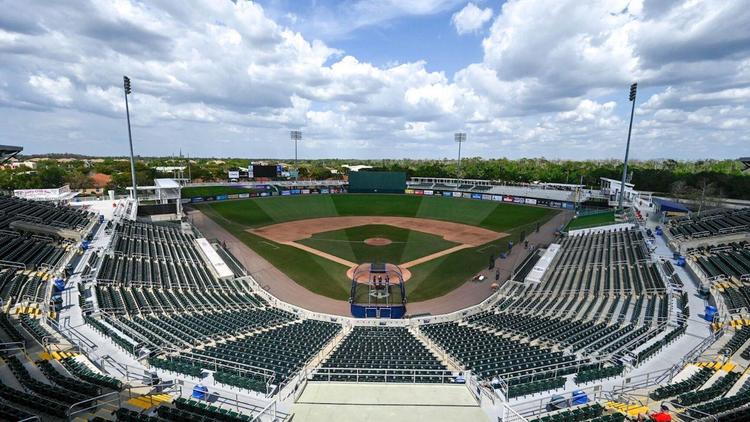 Over the past two weeks, as states have started to plan their reopenings, nearly everyone along the decision-making continuum — league officials, players, union leaders, owners, doctors, politicians, TV power brokers, team executives — has grown increasingly optimistic that there will be baseball this year, according to ESPN's Jeff Passan.
The season could still take many forms with games starting in front of empty stadiums still very likely when play does reopen.
Major League Baseball and its players are increasingly focused on a plan that could allow them to start the season as early as May and has the support of high-ranking federal public health officials who believe the league can safely operate amid the coronavirus pandemic, sources told ESPN.
The plan, sources said, would dictate that all 30 teams play games at stadiums with no fans in the Phoenix area, including the Arizona Diamondbacks' Chase Field, 10 spring training facilities and perhaps other nearby fields.
Get all the latest Betting and Sport News updates on your social media outlets.
Players, coaching staff and other essential personnel would be sequestered at local hotels, where they would live in relative isolation and travel only to and from the stadium, sources said. Federal officials at the Centers for Disease Control and Prevention as well as the National Institutes of Health have been supportive of a plan that would adhere to strict isolation, promote social distancing and allow MLB to become the first professional sport to return.
Rob Manfred said after a conference call with all 30 teams that Major League Baseball will push back Opening Day until mid-May at the earliest after the federal government recommended restricting events of more than 50 people for the next eight weeks.
There are folks at the team level who think that a return in June might be possible but, in the end, may be an optimistic projection.
The realities of the federal and state main directions and the calendar of baseball preparation supports that: The Centers for Disease Control and Prevention just recommended having no crowds of greater than 50 for the next eight weeks — and assuming that MLB and the players' association would respect that direction (and there's no reason to think they wouldn't), that would mean that spring training wouldn't resume until mid-May, at the earliest.
Chek WagerWeb and find the best online betting site.