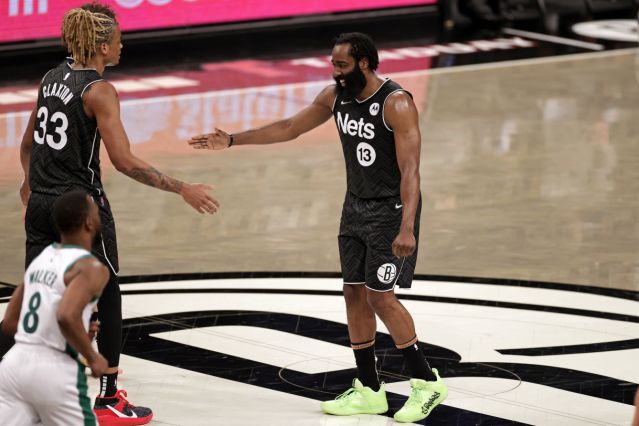 Kyrie Irving scored 40 points to lead the Brooklyn Nets to a 121-109 triumph over the Boston Celtics on Thursday night.
James Harden had 22 points and 10 rebounds for Brooklyn, which improved to 25-13 with its 12th win in 13 matches. Landry Shamet added 18 points and fellow reserve Jeff Green concluded with 11. Joe Harris added 12 as the Nets won without Kevin Durant and newcomer Blake Griffin.
Jayson Tatum scored 31 points but Boston had its four-game winning streak snapped. Marcus Smart added 19 in his return from injury, Daniel Theis had 17 and Jaylen Brown chipped in with 13.
The first meeting between the Atlantic Division rivals since Christmas emphasized the gulf between the teams. Specifically, Brooklyn's quick strike offense.
Get all the latest Betting and Sport News updates on your social media outlets.
The Nets started the fourth with an 88-86 lead, but it took just more than 3 minutes to extend the advantage to 100-90 even as Irving sat on the bench.
After Boston cut the lead to five following Tatum's jumper, Irving and Joe Harris checked back into the game and the Nets promptly outscored Boston 21-14 for the remainder of the game. In that 7:34 stretch, Irving made two 3s and two free throws versus his former team, and when Green slammed a two-handed dunk with 43 seconds left, the outcome was basically decided.
Smart had missed 19 games dating back to Jan. 30 with a strained left calf. He played 21 minutes after Boston coach Brad Stevens said before the game that the guard would be limited to 20-22.
How did the Celtics settle upon that time frame? "What I do is I get told and I follow instructions," Stevens deadpanned. "It's a lot like being married, right? My wife tells me what to do and I do what she says. That's pretty much how this all works with the minute restrictions."
Check WagerWeb and find the best online betting site.