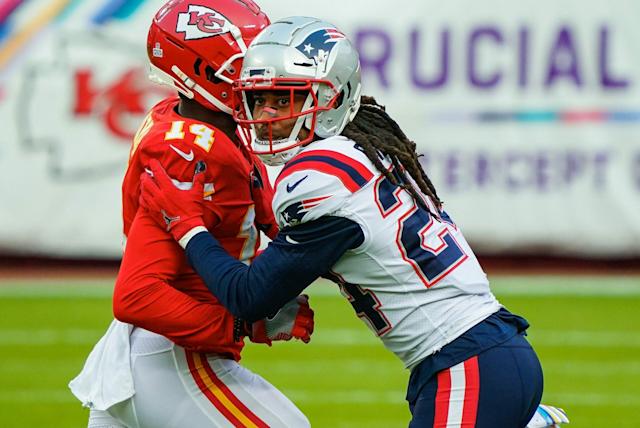 A trade for New England Patriots Pro Bowl cornerback Stephon Gilmore and the return of Pro Bowl running back Christian McCaffrey helped the Carolina Panthers on Wednesday get over their first loss of the campaign.
Both happened almost simultaneously as players made their way to the practice field.
The Gilmore trade in particular brightened the mood.
"That's pretty dope, man," cornerback Donte Jackson said.
Carolina general manager Scott Fitterer sent a 2023 sixth-round pick to New England for Gilmore, who had been set to be released later in the day. The 31-year-old from nearby Rock Hill, South Carolina, is expected to come off the physically unable to perform list after Week 6.
Fitterer stated he expects Gilmore, who is arranged to be in Charlotte for a physical on Thursday, to be ready for an Oct. 24 game versus the New York Giants
Get all the latest Betting and Sport News updates on your social media outlets.
McCaffrey could be available to play on Sunday against the Philadelphia Eagles after missing a 36-28 loss at Dallas with a hamstring injury.
Coach Matt Rhule said his star back looked good in practice Wednesday despite being limited and likely would be a game-time decision.
The Panthers got wind that Gilmore might be available on Tuesday night. That turned to reality on Wednesday morning when it was announced the Patriots planned to release the four-time Pro Bowl corner, who is recovering from offseason surgery to repair a partially torn quad.
Gilmore became available because the Patriots were unable to get the corner to agree to a restructured deal. The Panthers beat out several other teams that showed interest in trading for Gilmore.
They will be responsible for $5.8 million of Gilmore's 2021 contract. Fitterer said Gilmore agreed to play the remainder of the season without an extension, but he's open to one after the year.
Much depends on how Gilmore plays. Coach Matt Rhule said he can't wait to get Gilmore on the field.
"I think anytime you can get a [former] All-Pro player for a future sixth, we're going to do it, right?" he said. "… This was just one of those things where it was too good to pass up. He's too good of a player and he's from here. Football character-wise, he just adds to the core of what we are."
The need for a cover corner stated when Carolina lost first-round pick Jaycee Horn to a broken foot in a Sept. 23 win at Houston. Fitterer traded last week for Jacksonville's C.J. Henderson, a first-round pick in 2020.
Henderson remains somewhat of a project.
"C.J. is for the future," Fitterer said. "Stephon is to win now."
Fitterer also didn't rule out that Horn could return late in the season or possibly the playoffs, if Carolina qualifies, after undergoing surgery. But he made it clear the goal is to make the playoffs.
Gilmore gives the Panthers a veteran who can have a positive impact on a young secondary until then and one who can be an asset if Carolina makes the playoffs.
He also happens to live three doors down from Fitterer in a neighborhood south of Charlotte. Fitterer called Gilmore a "quality guy" who will be a "great presence for the younger guys."
Gilmore and Patriots coach Bill Belichick had both offered public goodbyes before the announced trade.
Panthers quarterback Sam Darnold faced Gilmore twice when he was with the New York Jets, so he's glad he won't have to face Gilmore when the Patriots come to town. Gilmore had two interceptions against him.
"Dang good player," Darnold said. "I had two of my toughest games against him."
Check WagerWeb and find the best online betting site.