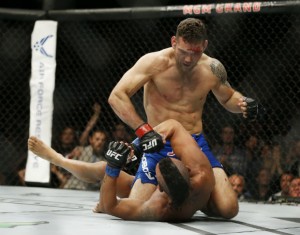 Check WagerWeb and find the best online betting site!!!!
Super fights are a constant talking point in the sport of mixed-martial-arts, he fans love pondering the idea of two of the sports' all-time greats going at it, and while none of the aforementioned fights have happened, UFC middleweight champion Chris Weidman plans on making a super fight with the former UFC light heavyweight champion before he retires.
Ultimate Fighting Championship's (UFC) Middleweight champion, is adamant he will not leave mixed martial arts (MMA) without fighting former Light Heavyweight champion, Jon Jones.
Because much like wanting to test himself against former 185-pound king Anderson Silva, Weidman wants to take on the best and take them out.
From Online Sportsbook, Casino Betting, Racebook Gambling, WagerWeb offers you the online gambling options
Weidman recently spoke to Ariel Helwani on The MMA Hour and talked about his desire to eventually move up to the light heavyweight division:
"I feel like there's a plan for me and I know this is a big fight for me. I'm going to retire undefeated and I will be named the greatest of all time. At some point, I don't know when it's going to happen… But in order to do that, I'm going to go up to 205 and beat whoever everybody thinks is the best up there. That is gonna happen. I'm really excited for that, but first I have to beat everybody at 185. I think Luke is a great fight to have."
"I could get up, if I wanted to, if I eat a little bit, lift a little bit, maybe get up to 225 pretty easy. Not easy, but I could get up there."
When Jon Jones' name was thrown in as a potential candidate, Weidman sounded as though a "superfight" with the 205 lb champion-in-exile has been on his mind for a while(transcription via MMAFighting):
"I know for a fact, I'm not leaving this sport without fighting Jon. Unless he's not coming back at all. But if he's there, and I'm here, people are going to want to see it happen. And I want to see it happen."
…
"That's nothing against Jon. It's just because I'm a competitor. I want to fight the best possible people. I want to have the biggest challenges in front of me and conquer them."
…
"He's an amazing athlete and he's accomplished so much. So I hope he gets his stuff together and he comes back."
Jon Jones is currently serving an indefinite suspension, which was given to him by the UFC after Jones' alleged involvement in a hit-and-run back in April. Jones allegedly got into a car accident with a pregnant woman after running a red light, and fled the scene of the accident on foot.
Once all those issues are behind him, there is still no guarantee that Jones returns to action again.
Get all the latest Betting and Sport News updates on your social media outlets. Find us on both Facebook and Google+!