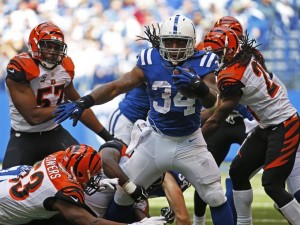 Check WagerWeb and find the best online betting site!!!!
in their final matches in the preseason, the Cincinnati Bengals meet the Indianapolis Colts at Lucas Oil Stadium in the National Football League.
The match is on September 3, 2015 at 7:00 PM ET.
The matchup will mark the 24th all-time meeting between the teams in the preseason, with the Bengals holding a 15-8 advantage. It will mark the 15th consecutive season that the two teams have squared off in the preseason.
Because this is Week 4 of the preseason, we rarely see teams play their starters in this game, so don't expect to see guys like Andy Dalton, Andrew Luck, A.J. Green, T.Y. Hilton, Geno Atkins, or Vontae Davis play. Losing any of the aforementioned guys to a silly injury this week would be devastating with the regular season opening next week.
 From Online Sportsbook, Casino Betting, Racebook Gambling, WagerWeb offers you the online gambling option.
That doesn't mean, however, that this game is of no important. Every NFL team must have their final 53-man rosters set by 4 p.m. EST on Saturday. Because this game is played Thursday night, that gives coaches and front-office personnel a full day to evaluate this game and use it to help determine which guys should make up those final 10-12 spots on each roster.
Cincinnati had a fairly decent preseason and even if they lose their final game against the Colts, they will end up with a .500 record. However, already at 2-1, expect them to try and end their exhibition games on a high.
Meanwhile, the Colts are 1-2 and are also trying to get a big win at home to give the crowd a lot to cheer for heading into the regular season.
The Bengals were victorious in the previous game week as they faced the Chicago Bears. AJ McCarron had an excellent game as he went for 12-17 for 149 yards and completed one touchdown.
Meanwhile, the Colts picked up their first win of the preseason when they beat the St. Louis Rams 24-14. Prior to the win, the Colts lost to the Bears and the Philadelphia Eagles.
The Colts went on an early lead, going up 10-0 after the first quarter but found themselves behind 14-13 at the end of three periods.
They were able to recollect themselves and score 11 points in the final frame, with their defence holding up and preventing the Rams to score as they went on to win.
Tyler Varga had six rushes for 16 yards and also converted one touchdown.
Get all the latest Betting and Sport News updates on your social media outlets. Find us on both Facebook and Google+!