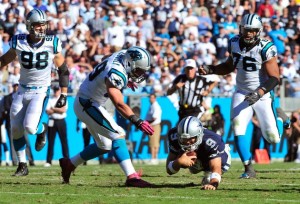 Check WagerWeb and find the best betting site!!!!
The undefeated Carolina Panthers are at the Dallas Cowboys in a Thanksgiving Day special featuring marquee quarterbacks Cam Newton and Tony Romo, to say nothing of the Greg Hardy connection. Kickoff is at 4:30 p.m. Thursday
Carolina is one of just two undefeated teams remaining in the NFL and quarterback Cam Newton is being considered for the MVP due to his outstanding play this season. Newton has always been a strong runner at quarterback, but this season his passing is much improved.
From College Football, Casino Betting, Racebook Gambling, WagerWeb offers you the online gambling option.
The Cowboys now have Tony Romo back under center after missing 7 games, Dallas is four games under .500 but is still in the running to win the NFC East, trailing the New York Giants by just two games.
Tony Romo led Dallas to its first win in 8 games last weekend defeating Miami 24-14.
Carolina beat two opponents in the NFC East – Washington and Philadelphia – handily and brings the league's third highest scoring offense, but faces four of their next five games away from home.
The Carolina defense, albeit not as strong as previous years, is rounding into form and has a strong front seven against the run.
Greg Hardy the defensive end for Dallas will be facing his former team for just the first time since he left last offseason. Carolina will have its talented defensive end Charles Johnson activated to play and give Romo a hard time with his pass rush.
Dallas will look to run the ball with Darren McFadden to take the early pressure off Romo and open passing lanes for him to hit Dez Bryant down field and Jason Witten over the middle.
Dallas has won five straight games outright against Carolina. However, the two teams have not played head to head since October of 2012.
This is probably one of those games that has a score of something like 7-6 after three quarters, as the two defenses battle it out.
Three keys to watch
Can the Panthers keep Hardy off Newton?
This is the game everyone circled when schedules were released in April. The return of Tony Romo makes it more interesting, but all eyes will be on the Cowboys defensive end.
Forcing a Romo moment.
Romo remains one of the game's great gunslingers. He's never met a throwing window he didn't think he could zip a pass through. That has led to plenty of late-game drama – good and bad.
Linebacker play will be key
There might be more interesting matchups (start with Dez Bryant vs. Josh Norman), but this game could be decided by which team best stops the run. Both teams rank among the league's top eight rushing offenses, with the Panthers' Jonathan Stewart and Dallas' Darren McFadden both coming off 100-yard games
Get all the latest Betting and Sport News updates on your social media outlets. Find us on both Facebook and Google+!