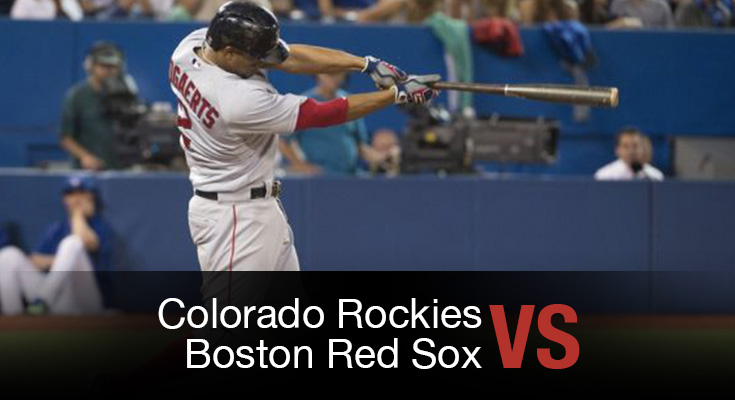 The Boston Red Sox are 20-10 against teams below .500. They are 7-7 against teams .500 or better.
Boston looks to continue the trend of beating up on subpar teams this week when it hosts the Rockies for three games (Tuesday-Thursday).
The Colorado  Rockies are playing well enough to reside in second in the National League West but that isn't good enough to snag a spot in the postseason if it began today. The Rockies took a step back in an 8-3 defeat at Fenway Park for their 5th loss in six contests. Colorado starter Jorge De La Rosa was charged with seven runs on nine hits and three BB over 3.1 frames to absorb the loss. The Rockies offense couldn't keep pace on six hits and a walk with Gerardo Parra driving in a pair while Charlie Blackmon went solo. Chad Bettis is shooting for back to back wins when he opposes the Red Sox for the first time in his career. Bettis knocked off the Cardinals 3-1 on the road last time out with the lone run scored on five hits and a pair of BB over 6.2 innings.
Get in the action, anywhere, anytime! Check our Live Betting Options!
The Boston Red Sox have their sights set on the top spot in the American League East. The Red Sox continued to play well Tuesday and have won four of five to stay in the Orioles shadow. Ace David Price picked up the win with all three runs allowed on five hits and a BB through seven innings while striking out six. Boston pounded out 12 hits and walked five times with David Ortiz going 2-4 with four runs driven in while Xander Bogaerts and Dustin Pedroia combined for five hits and four runs.Steven Wright toes the rubber for the first time in his career versus the Rockies. Wright did not receive a decision in a 3-2 loss at Kansas City with all three runs allowed on five hits in eight frames.
Support your Team! Start betting now!
Boston's Lineup:
Mookie Betts, RF
Dustin Pedroia, 2B
Xander Bogaerts, SS
David Ortiz, DH
Hanley Ramirez, 1B
Chris Young, LF
Jackie Bradley Jr., CF
Josh Rutledge, 3B
Christian Vazquez, C
David Price, LHP (6-1, 5.53 ERA)
Colorado's Lineup:
Charlie Blackmon, CF
Trevor Story, SS
Nolan Arenado, 3B
Mark Reynolds, 1B
Carlos Gonzalez, RF
Ryan Raburn, DH
Garrado Parra, LF
Dustin Garneau, C
DJ LeMahieu, 2B
Jorge De La Rosa, LHP (1-3, 10.18 ERA)
Get all the latest MLB News and updates on your social media outlets.