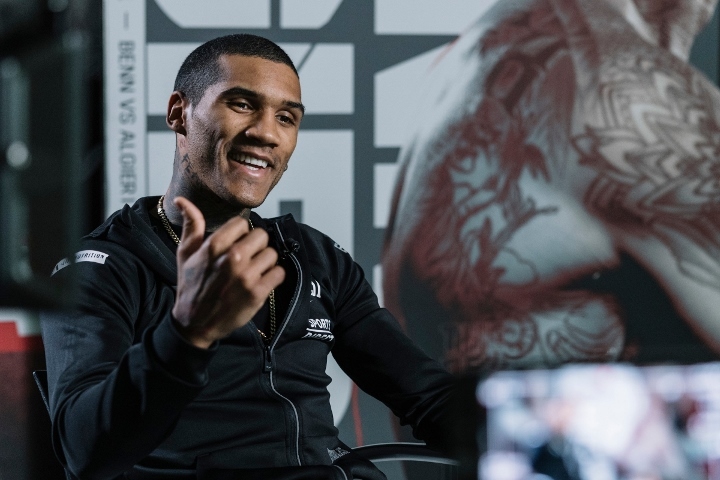 After turning down the opportunity to have dinner with Yordenis Ugas, Conor Benn hopes they can meet again in the ring later this year.
Ugas (27-4, 12 KOs), 35, puts his WBA welterweight belt on the line versus WBC-IBF champion Errol Spence (27-0, 21 KOs), 32, in a world title unification fight at the AT&T Stadium, Arlington, Texas, on Saturday. Just a few hours after, Benn continues his development against Chris van Heerden at the Manchester Arena, England.
Benn (20-0, 13 KOs), who was raised in Spain and Australia and moved to Essex, England, is the son of Nigel Benn — the world middleweight and supermiddleweight champion in the 1990s — and has made rapid progress over the last two years.
The 25-year-old travelled to Las Vegas recently for sparring, but claims Miami-based Cuban Ugas turned down the chance to spar him and instead invited him to dinner. "When I was out in Vegas recently, we tried to make the sparring with Ugas because me and Ugas speak," Benn said.
Get all the latest Betting and Sport News updates on your social media outlets.
"He kept saying we would spar, he knows the score and knows what was going on but we ended up sparring [Yuriorkis] Gamboa and he had to get pulled out of the spar. Bearing in mind I wasn't even in training camp but he had to get pulled out because he was beginning to get a bit of a pasting.
"Ugas was there and after he was inviting me out for dinner with him and his missus. I thought: 'That's a bit odd,' I look at that and think 'I fancy my chances.' If he does beat Spence, which I believe is not likely, but it is a fight I'd love in the future.
"I didn't take him up on dinner. I told him I was busy but as I was walking through the casino, I see him and his missus having food and I went over to say hello and thought 'That couldn't have gone anymore awkward really.'
"It's not that we are from the same country or live the same lifestyle so I was thinking 'Why does he want me to go to dinner?' What are we going to do? Sit there and stare at each other. I found it very odd. I don't know what his motive was.
"I would love to do it for real. I want to test myself against the best in the division. Every challenge they put in front of me I come through it. I'm top five in every governing body and No. 1 in Britain."
Benn is closing in on a world title shot which he hopes to get later this year or in 2023, as long as he defeats California-based Van Heerden (28-2-1, 12 KOs), a southpaw from South Africa.
Benn added: "I've done a lot of southpaw sparring and I love challenges, I love overcoming them. I think I have shown in my last few performances that I can beat any style put in front of me. I think I fill him in, to be honest. I'm prepared for a hard fight."
Check WagerWeb and find the best online betting site.