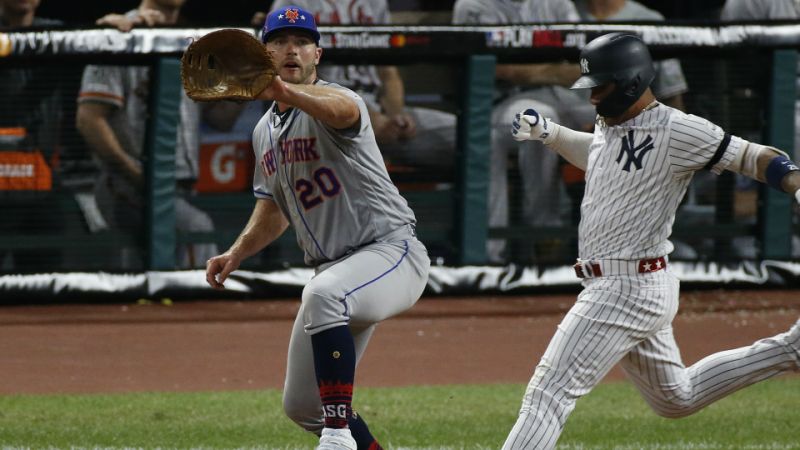 The Yankees and Mets will train in New York if Major League Baseball and its players try to start the coronavirus-delayed season.
Gov. Andrew Cuomo made the announcement Saturday, and the teams confirmed the decisions. Cuomo stated he would like to stop by to see them train.
"I think New York now is especially attractive, compared to the other states, because we have such a low transmission rate, and this is a state that is ready, willing and able to partner with sports teams so that they can play," Cuomo said.
The Yankees initially had intended to return to their spring training complex in Tampa, instead of Yankee Stadium in New York. The Mets had said they were unclear between Citi Field and their training camp in Port St. Lucie. Florida at first appeared preferable because the complexes have more fields. But positive cases for COVID-19 in the state have increased markedly in recent days, while the percentage of positive tests in New York City has dropped sharply.
New York is set to enter Phase 2 of reopening on Monday, letting stores and outdoor restaurant seating to reopen with social distancing.
Get all the latest Betting and Sport News updates on your social media outlets.
MLB had hoped to start the season during the first week of July, but teams and the players association are engaged in a bitter fight over how to apportion revenue losses caused by the pandemic.
Both sides agree that players need three weeks of training before the increasingly slight season could start.
Even as he celebrated the news, Cuomo, a Democrat, brought up Florida's current issues. The Sunshine State, where Republican Gov. Ron DeSantis is still ordering arriving New Yorkers to quarantine for two weeks, is now in a much more precarious health situation, with infection rates soaring.
On Friday, the Phillies shut down their complex in Clearwater after announcing five players and three staff members had tested positive for the virus. On the same day in Dunedin, the Blue Jays shut down their facility as they awaited results on a player on their 40-man roster who showed symptoms of the virus.
All 30 major-league teams have closed their spring camps in Florida and Arizona this weekend over virus concerns.
Check WagerWeb and find the best online betting site.