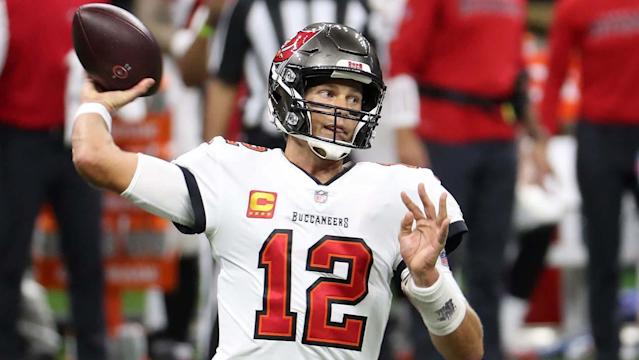 Tampa Bay Buccaneers quarterback Tom Brady has officially announced his retirement from the NFL, saying Tuesday in an Instagram post that he is "not going to make that competitive commitment anymore."
"I have always believed the sport of football is an 'all-in' proposition — if a 100% competitive commitment isn't there, you won't succeed, and success is what I love so much about our game," Brady said in his statement on Instagram.
"There is a physical, mental and emotional challenge EVERY single day that has allowed me to maximize my highest potential. And I have tried my very best these past 22 years. There are no shortcuts to success on the field or in life.
"This is difficult for me to write, but here it goes: I am not going to make that competitive commitment anymore. I have loved my NFL career, and now it is time to focus my time and energy on other things that require my attention.
I've done a lot of reflecting the past week and have asked myself difficult questions. And I am so proud of what we have achieved. My teammates, coaches, fellow competitors, and fans deserve 100% of me, but right now, it's best I leave the field of play to the next generation of dedicated and committed athletes."
Get all the latest Betting and Sport News updates on your social media outlets.
Brady, 44, widely considered the greatest quarterback in NFL history, acquired seven Lombardi trophies, the most championships won by a single player, along with five Super Bowl MVPs.
He rewrote much of the NFL record book with personal and team accomplishments.
He piled up career records such as most touchdown passes (624) and most passing yards (84,250) in his 22 seasons — of which 20 were with the New England Patriots.
"My playing career has been such a thrilling ride, and far beyond my imagination, and full of ups and downs," Brady said in his statement.
"When you're in it every day, you really don't think about any kind of ending. As I sit here now, however, I think of all the great players and coaches I was privileged to play with and against — the competition was fierce and deep, JUST HOW WE LIKE IT. But the friendships and relationships are just as fierce and deep. I will remember and cherish these memories and re-visit them often. I feel like the luckiest person in the world."
Brady, who led the Bucs to a Super Bowl title last season and NFC South championship this season, has been adamant for weeks that he never wanted a "farewell season," sources told ESPN.
Sources told ESPN on Saturday that Brady had decided to retire, but Brady's family and the Bucs had said that a final decision had not been reached.
On Monday, Brady said on his SiriusXM podcast that he wasn't ready to finalize his plans.
After 20 seasons with New England that had already cemented his legacy, Brady joined the Bucs in March 2020 and immediately added another chapter to his story with a seventh Super Bowl title — the first acquired by a team in its own stadium.
Check WagerWeb and find the best online betting site.