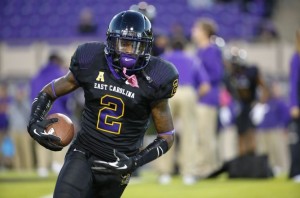 Check WagerWeb and find the best betting site!!!!
Start Time: 7:00 PM EST. Friday, October 30.
Location: Pratt & Whitney Stadium at Rentschler Field, East Hartford, Connecticut
Line: East Carolina -7.5. Over/Under: 50.5.
The Eastern Carolina Pirates will travel to Rentschler Field to take on the Connecticut Huskies this Friday night in College Football action.
The Eastern Carolina Pirates couldn't hold on to a 14-10 4th quarter lead and dropped to 4-4 (2-2 American East) on the season after being defeated by the 22nd ranked Temple Owls, 24-14, this past Thursday. The Pirates were able to outgain the Owls by a 378-322 margin however committed two turnovers and allowed Temple to block a key punt late in the 4th that led to game clinching TD for the Owls. Leading the way for the Pirates was WR Isaiah Jones who had 106 yards on 10 receptions in the loss.
On the season, Eastern Carolina is averaging 29.9 ppg on 426.0 yards per game (286.3 passing, 139.8 rushing). The Pirates have used two QB's throughout the season as they have a throwing QB in Blake Kemp (70.1 comp %, 1828 yards, 11 TD, 7 INT) and a duel-threat QB in James Summers (Throwing: 66.7 comp %, 428 yards, 4 TD, 1 INT, Rushing: 60 carries, 383 yards, 6 TD). RB Chris Harrison is the main threat in the backfield and currently has 525 yards and 7 TD on 119 carries. Eastern Carolina has a solid receiving core that is led by WR Isaiah Jones (61 receptions, 701 yards, 3 TD), TE Bryce Williams (38 receptions, 400 yards, 3 TD) and WR Trevon Brown (25 receptions, 341 yards, 3 TD). Defensively, Eastern Carolina is allowing their opponents to average 29.1 ppg on 413.3 yards per game (241.5 passing, 171.8 rushing). The Pirates have had trouble with turnovers as they've committed 15 turnovers on the season and have a turnover margin of minus 6. Leading the way for the defense has been LB Zeek Bigger who has 65 tackles and 1.5 sacks.
From College Football, Casino Betting, Racebook Gambling, WagerWeb offers you the online gambling option.
The Connecticut Huskies had trouble stopping the high-powered Cincinnati offense and dropped to 3-5 (1-3 American East) on the season after being defeated 37-13 by the Bearcats this past Saturday. The Huskies were outgained by an incredible 612-266 margin and committed two turnovers in the loss. QB Bryant Shirreffs struggled throwing the ball as he completed just 12 of 27 passes for 87 yards and a INT however did lead the way for the Huskies as he was able to rush for 90 yards on 17 carries. On the season, the Huskies have had trouble finding ways to put points on the board as they are averaging just 19.0 ppg on 342.1 yards per game (221.6 passing, 120.5 rushing). Leading the way for the offensive has been RB duo of Arkeel Newsome (83 carries, 412 yards, 4 TD; 33 receptions, 345 yards, 2 TD) and Ron Johnson (70 carries, 150 yards, 4 TD). QB Bryant Shirreffs has completed 62.0% of his passes for 1723 yards, 7 TD and 5 INT while rushing for 342 yards and 2 TD on 113 carries. Noel Thomas is the leading receiver for the Huskies as he has 493 yards and a TD on 37 receptions. Defensively, Connecticut is holding their opponents to 22.1 ppg on 388.5 yards per game (204.0 passing, 184.5 rushing). The Huskies currently have a plus 5 turnover margin and have been led defensively by DB Jhavon Williams (37 tackles, 3 INT) and DB Andrew Adams (65 tackles, 2 INT).
The Pirates are 13-4 ATS in their last 17 games following a S.U. loss however, just 2-10 ATS in their last 12 conference games. The Huskies are 2-5 ATS in their last 7 Friday games however, just 1-5 ATS in their last 6 home games.
Why East Carolina Will Win
The Pirate offense was derailed by Temple, but it was just a brief detour. And now that the Huskies have begun showing cracks on D, yielding 612 yards to Cincinnati on Saturday, ECU is poised to get back on track. The staff has done a nice job of mixing the quarterbacks, passer Blake Kemp and runner James Summers, and the skill talent is much more diverse than it is at UConn.
Why Connecticut Will Win
Sure, the Huskies are a one-note, spotty offense that relies too heavily on QB Bryant Shirreffs. However, the Pirates have been anything but consistent on defense through the first eight games. It's a beatable unit that's going to be challenged by not only Shirreffs, but also RB Arkeel Newsome and WR Noel Thomas.
Player Who Matters
Summers took a backseat to Kemp last week because of how difficult it is to run on the Owls. But the Huskies are giving up more than 4.7 yards per carry, while being gashed the last two weekends. The Pirates will want to unleash the shiftiness of Summers, while also giving more touches to backs Chris Hairston and Anthony Scott.
Get all the latest Betting and Sport News updates on your social media outlets. Find us on both Facebook and Google+!