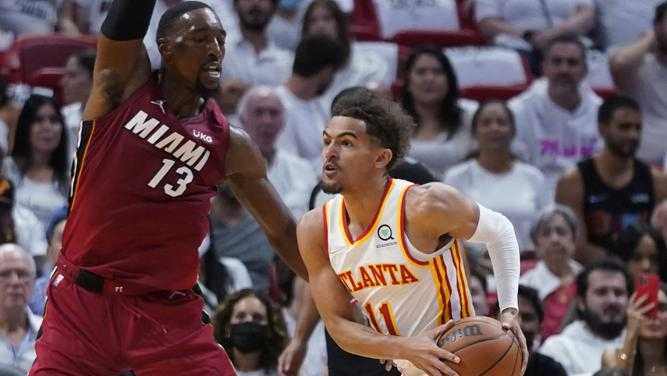 If one play could tell the story of a five-game series, consider this one: Trae Young's final shot from the field was a corner 3-point try that he rushed because he knew a defender was coming his way.
The shot bounced off the side of the backboard.
Take a bow, Miami. Even without Kyle Lowry and Jimmy Butler, defense carried the day — and carried the Heat into the Eastern Conference semifinals.
Victor Oladipo scored 23 points, Bam Adebayo added 20 points and 11 rebounds, and the Heat moved into Round 2 of the playoffs by eliminating Young and the Atlanta Hawks 97-94 on Tuesday night.
"The biggest thing about this game was our defense," Adebayo said. That was, and is, Miami's plan. The Heat swarmed Young from the start of Game 1 to the end of Game 5, holding Atlanta's high-octane scorer to a 15.4-point average in the series on 32% shooting. Young had as many assists as he had turnovers — 30 of each.
Get all the latest Betting and Sport News updates on your social media outlets.
"They're a good defensive team," Young said. "Their team is more of a system than who they have on their team. No matter who they have out there, they can play. … And when they've got a guy that they're targeting and trying to take away, they do a really good job of doing that."
Tyler Herro scored 16, Max Strus scored 15 and Caleb Martin added 10 for the top-seeded Heat, who got the clincher with Butler and Lowry sitting out with injuries.
Young went 2 for 12 from the floor, scoring just 11 points. De'Andre Hunter scored 35 for Atlanta, which got 12 apiece from Kevin Huerter and Danilo Gallinari.
"Obviously, I didn't shoot the ball well," Young stated.
Hunter fouled out with 41.6 seconds left, Miami clinging to a three-point lead at the time. The Hawks got a stop, taking over with 29.2 seconds remaining, and retained possession after a missed shot from Gallinari went out of bounds off Miami.
The Hawks never got another shot off, time expired and Miami moved on.
"They are a hell of a team," Hawks coach Nate McMillan said. "Those guys compete every second that they're out on the floor and I have a great deal of respect for how they play."
Onyeka Okongwu's three-point play got Atlanta within 79-76 early in the fourth, the Hawks clawing back after being down by as many as 15.
But Herro hit a high-arcing jumper from the lane, Miami got a stop, and Oladipo hit a left-wing 3 on the next Heat possession to push the lead back to eight with 7:29 left. That's how the final minutes went: Atlanta made a charge, Miami would hold it off, all the way to the end.
And now, the Heat get nearly a week off before facing either Philadelphia or Toronto in the East semis. Game 1 will be Monday in Miami.
Check WagerWeb and find the best online betting site.