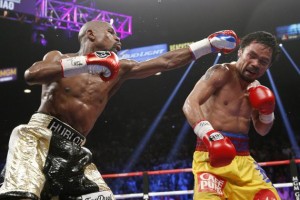 Check WagerWeb and find the best online betting site!!!!
Floyd Mayweather's fight against Andre Berto in Las Vegas on September 12 will be the last of his career, according to Mayweather Promotions CEO Leonard Ellerbe. But, Freddie Roach, the trainer of Manny Pacquiao, does not buy it.
"I don't think he'll stop at 49 fights, I think he'll fight to 50. I'm hoping that he promotes himself, maybe if he does he can make more money," Roach said.
From Online Sportsbook, Casino Betting, Racebook Gambling, WagerWeb offers you the online gambling options
The undefeated welterweight will equal heavyweight legend Rocky Marciano's long-standing unbeaten record of 49-0 if he defeats Berto.
Mayweather has the opportunity of further cementing his legacy as one of boxing's all-time greats if he can surpass that record and extend his unbeaten record to 50 fights – but his trusted confidant Ellerbe is adamant this will be the final time the 38-year-old will enter the ring.
Mayweather is most likely capable of fighting beyond this September, but he recently cited his uncle Roger Mayweather's worsening health as a motivation to hang the gloves up.
"My uncle Roger Mayweather has lost a lot of memory from the sport of boxing," Mayweather told Fight Hype. "It's sad that he's only in his 50s, but he seems like an old man that's in his 80s."
His upcoming fight vs. Berto has been roundly criticized as a mismatch, but already there are seeds of a possible rematch vs. Pacquiao.
"Manny would do much better in a rematch, if the shoulder gets better," Roach said. "We were doing well until the shoulder went in the fourth round and we had a tough time after that. I do think we can beat Mayweather 100 percent." After his unanimous decision loss, Pacquiao revealed he was fighting with a torn labrum.
For now, all anyone can do is take Mayweather at his word, even if he has ended one retirement already
"September 12th is my last dance. On September 13 I just want to sit back and watch some football."
Get all the latest Betting and Sport News updates on your social media outlets. Find us on both Facebook and Google+!