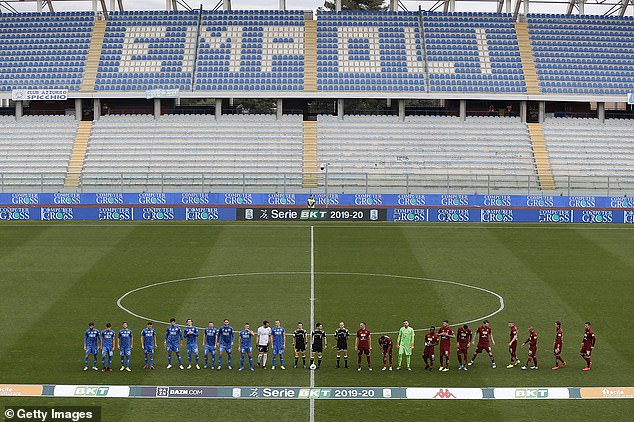 Italian prime minister Giuseppe Conte announced on Monday that Serie A is suspended indefinitely as the country continues to struggle to contain the spread of coronavirus.
Play has been halted until at least April 3, according to the Italian national Olympic committee, as the country comes to a standstill over the outbreak of a disease that has spread to at least 97 countries. Italy on Monday also banned public gatherings and unnecessary travel for the entire nation.
"We're having an important growth in infection… and of deaths," he said.
"We all must give something up for the good of Italy. We have to do it now, and we'll only be able if we all collaborate and adapt to these more stringent measures.
"This is why I decided to adopt even more strong and severe measures to contain the advance… and protect the health of all citizens."
Italy's top football division had resumed Sunday with five games played in empty stadiums.
Sassuolo hosted Brescia on Monday, also behind closed doors.
Get all the latest Betting and Sport News updates on your social media outlets.
Teams have either 12 or 13 games to play, with eight-time defending champion Juventus holding a one-point lead over Lazio; Serie A has not been canceled since World War II.
CONI said its decision did not include international competition "for clubs or national teams," because it does not govern those. Juventus, Napoli and Atalanta are each competing in the Champions League, while Inter Milan and Roma are still in the Europa League.
Events around the world have been affected by the spreading virus, including Champions League matches and Japan's professional baseball season. Late Sunday, one of the biggest tennis tournaments in the world was postponed.
In France, police said that the Champions League match between Paris Saint-Germain and Borussia Dortmund at Parc des Princes will be played without fans.
It is the second of the four matches in the competition this week to be played in an empty stadium. Spanish authorities previously recommended restrictions on games involving teams from areas in Italy with high numbers of virus cases and said the Valencia-Atalanta match on Tuesday will take place without fans in attendance.
Leipzig's match against Tottenham on Tuesday and Liverpool's home game against Atletico Madrid on Wednesday are expected to be played with fans.
Check WagerWeb and find the best online betting site.