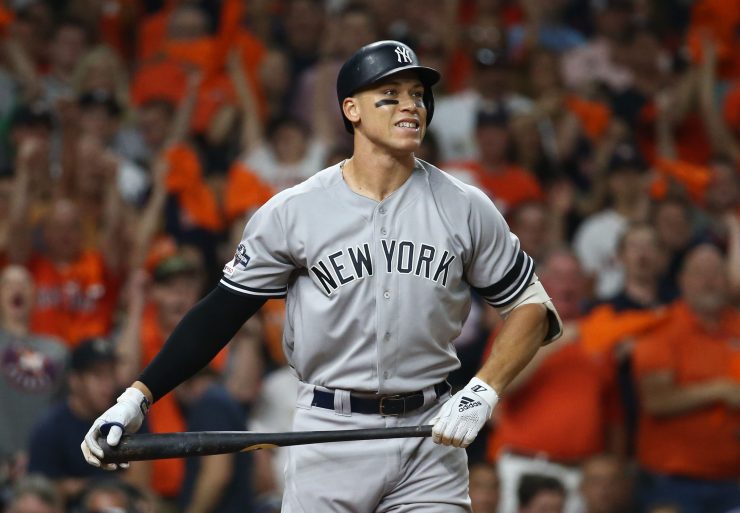 Aaron Judge is still not out of the woods yet regarding the fractured rib discovered during spring training, according to a source.
The right fielder is scheduled for another CT scan this month and the injury continues to heal.
The Yankees hope to see continued improvement, but while Judge expressed optimism about an early return after the injury was uncovered, the organization thinks he would be out until June or July.
The time frame may prove to be immaterial, since the delay to the start of the regular season due to the COVID-19 pandemic has made the possibility of any matches prior to then extremely unlikely.
In the meantime, Judge's rib "continues to heal" and the source stated there had been no setbacks.
There remains no formal plan for Major League Baseball to return after the sport was shut down by the coronavirus.
Get all the latest Betting and Sport News updates on your social media outlets.
At the time the injuries — the rib fracture and a punctured lung — were discovered, Judge indicated he expected to be out at least through March. Both injuries are believed to have been suffered on a diving play in right field in September.
The other injured Yankees who may have missed extended part of the regular campaign had it started on time are doing well, Boone said.
Giancarlo Stanton has recovered from the strained calf that sidelined him during the spring and Boone thinks "he should be good to go whenever we get ready to go back."
Aaron Hicks, who underwent Tommy John surgery following last year's playoffs, figures to be out until June or July, but Boone had encouraging news on the center fielder.
"He's doing well,'' Boone said of the switch hitter. "He's already doing soft toss from both sides of the plate and throwing 90-plus feet. He's trending in a really good direction."
"His rehab has gone really, really well,'' Boone said.
In the meantime, Boone said he continues to check in on his players and is convinced they will be prepared for whatever this unusual season might have in store.
Chek WagerWeb and find the best online betting site.