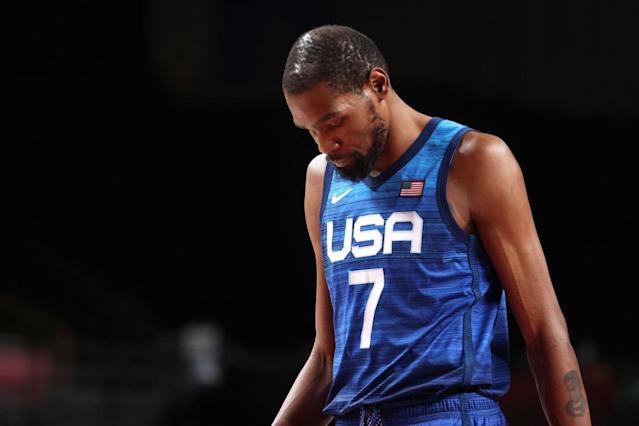 Team USA's invincibility in men's basketball is long gone, and the journey to a fourth successive gold medal is already fraught with adversity.
France gut-punched the Americans with a brilliant finish for an 83-76 triumph to open the Tokyo Olympics on Sunday. It snapped a 25-game Olympic winning streak dating back to 2004 for Team USA.
The final blow came when Evan Fournier drilled a 3-pointer with a minute to play to give the French the lead for good, completing their comeback after the U.S. had an eight-point lead with four minutes to play. It was the biggest of his 28 points in one of the finest games he has played in his career.
It was followed by an amazing possession in which the Americans managed to get five shots off and missed them all. The final three were wide-open 3-point attempts by Zach LaVine, Kevin Durant and Jrue Holiday.
"I got to lead the team because I know these guys," Fournier said. "It's a hell of a win. Our country is going to be extremely proud. But it's just one game, to be honest."
If there was a moment in this match that best encapsulated the situation between these two teams, it came at the end, when the French calmly shook the Americans' hands and left the floor with the same business-as-usual demeanor Fournier displayed. Two years ago at the World Cup in China, France celebrated wildly after defeating a much-less-talented Team USA.
Get all the latest Betting and Sport News updates on your social media outlets.
"There's nothing to be surprised about," Team USA coach Gregg Popovich said before launching into what has become his go-to statement after losses.
"When you lose a game, you're not surprised. You're disappointed, but I don't understand the word surprised. That sort of disses the French team, so to speak, as if we're supposed to beat them by 30 or something. That's a hell of a team."
The French won the bronze at that World Cup, but their talent does not compare to that of the Americans.
And it does not explain how a U.S. team built for scoring and shooting went an unexplainable four and a half minutes without a basket down the stretch.
Fatigue was a factor. Three players didn't get to the team hotel until 1 a.m. on gameday, an unusual set of circumstances. But one of them, Jrue Holiday, was masterful in the fourth quarter as he scored 12 of his 18 points and contributed several other energy plays to help the U.S. build a lead.
The Americans then had a host of stars to lean on such as Durant, Jayson Tatum and Damian Lillard. But they failed as the French ran an execution clinic.
Popovich seemed annoyed by media questions about the upset, as has been his custom. He has overseen losses in five of the past eight games he has coached for the national team dating back to 2019. There were some who admitted the loss was a disappointment, however.
"I think we have a history of dominance and maybe not always blowing people out, but we have a history of winning. And it's not often that you see Team USA go out there and lose, especially to start," stated Lillard, who shot just 3-of-10 and had two critical turnovers late in the game.
Popovich said he'd been thinking about this rematch for two years and daily since the game was drawn in February. But he never figured out how to slow down Fournier as he repeatedly got free for open looks on the perimeter. Even Holiday, who was brilliant in the NBA Finals, helping the Bucks clinch the title Tuesday, couldn't stem the tide.
Check WagerWeb and find the best online betting site.