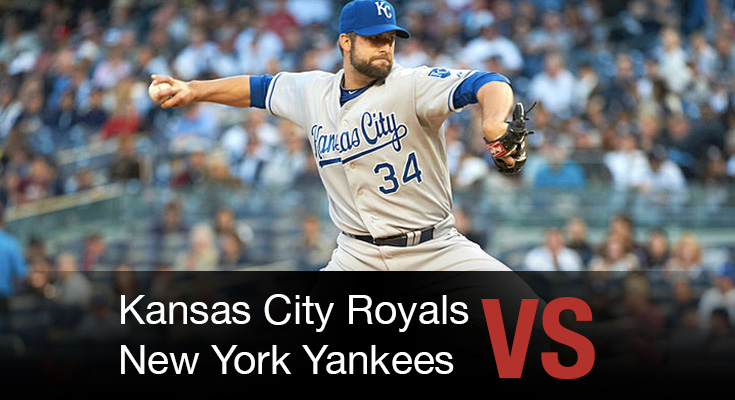 Kansas City Royals (15-15) at New York Yankees (11-17)
MLB Baseball: Monday, May 9, 2016 at 7:05 pm (Yankee Stadium)C Young (1-4) (5.76) vs. I Nova (1-1) (5.14)
The Line: New York Yankees -110 / Kansas City Royals +100
The Yankees opened a four-game series against the World Series champion Kansas City Royals with a 6-3 win on Monday at Yankee Stadium.
By now, Masahiro Tanaka has gotten used to pitching under pressure while the New York Yankees' lineup continually provides him with little run support.
Tanaka insists he's only going to worry about doing his part on the mound.
After Carlos Beltran led an offensive awakening, the right-hander will try to pick up a rare victory as the hosts go after their fourth win in five games Tuesday night against the struggling Kansas City Royals.
Get in the action, anywhere, anytime! Check our Live Betting Options!
The Royals look to rebound after a 5-4 loss on the road in Cleveland yesterday as they continue their trip to the Bronx to take on the struggling Yankees who are off to a terrible start in the AL East. The Royals are the defending champions and favourites to once again lay claim to the AL Central crown but they have some work to do as they are 15-15 in their first 30 games and haven't quite looked like the team many expected to see this season. Kansas City will send Chris Young to the mound who will look to improve on his shaky 1-4 start as he matches up with Ivan Nova who is 1-1 with a 5.14 ERA through his first few starts of the season.
Kansas City's Kris Medlen (1-3, 6.85) has been brutal in two home starts, but he's 1-1 with a 2.16 ERA in three on the road. He'll try to regroup after the first six batters he faced scored and he didn't get an out until his 38th pitch on Wednesday.
The Yankees have had a very slow start to the year and don't really look like they are going to make significant progress any time soon, though they did welcome Aroldis Chapman to the team who will look to make an immediate impact with one of the league's most daunting bullpens. The Yanks are 11-17 so far this season and while they are still in the mix thanks to a lackluster beginning from most of the other AL East opponents it looks like it could be a long season in the Big Apple for the Pinstripers as they are an aging group with a lackluster rotation.
The Royals are 15-6 in their last 21 games following a loss, 4-1 in Young's last five starts when the team allows 5+ runs in their previous outing, but are 2-8 in their last 10 road games against a righty. The Yankees meanwhile are 1-5 in Nova's last six home starts, 3-8 in their last 11 overall, and 5-12 in their last 17 when scoring two runs or less in their previous outing.
Although Tanaka (1-0, 2.29 ERA) has limited opponents to two earned runs or less in each of his six outings, victories have been tough to come by for the 27-year-old with a 2.75 run support average that ranks near the bottom of the majors.
Get all the latest Kansas City Royals news and updates on your social media outlets.
Find us on both Facebook and Google+!