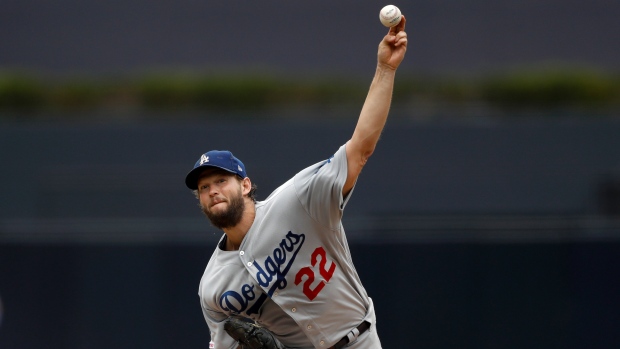 Buehler was selected over Clayton Kershaw and Hyun-Jin Ryu to start for the Dodgers on Thursday in Game 1 of the National League Division Series versus the Washington Nationals.
Nothing Buehler said could opaque the magnitude of news that was announced by manager Dave Roberts on the eve of the series opener.
This was more than a simple reshuffling of the rotation. This was a change of the guard. This was a shift in franchise doctrine.
The designation monopolized by Kershaw over the last decade now belongs to the slight-but-brash 25-year-old right-hander born and raised in Kentucky.
If any confusion over that remained in the wake of Buehler being named the Game 1 starter, clarity was provided by Roberts' explanation of how the decision was made.
"We just felt that with Walker getting an opportunity to pitch the first game, also potentially a Game 5, gives us the best chance to win," Roberts said, "regardless of opponent." Ryu started instead of Kershaw last year in Game 1 of a NLDS against the Atlanta Braves, but that was more of a case of the front office wanting to show off its creativity. The pitchers' rest and Kershaw's availability to start in a potential Game 5 were contemplated.
Get all the latest Betting and Sport News updates on your social media outlets.
The decision has symbolic importance to a franchise that's foundation is drafting and developing its own players. Selected in the first round of the 2015 draft, Buehler was the first player selected by the Dodgers under current scouting director Billy Gasparino.
Of course, that by itself doesn't make the decision to start Buehler in Game 1 the right one. Symbolism won't win the Dodgers a World Series. Buehler, Kershaw and Ryu pitching well might. Roberts still hasn't revealed the order in which Kershaw and Ryu will follow Buehler in the rotation.
Starting pitching could very well determine this series.
The most dominant stretches of their 106-win season concurred with periods in which Buehler, Kershaw and Ryu routinely made six-plus- or seven-inning starts.
If they are pitching into the seventh or eighth innings of games, they should win handily.
Their recent track records could be a source of worry.
Buehler finished the season with a 14-4 record and 3.26 earned-run average, but he failed to pitch more than five innings in three of his last five starts. He posted a 4.50 ERA in September.
Check WagerWeb and find the best online betting site.