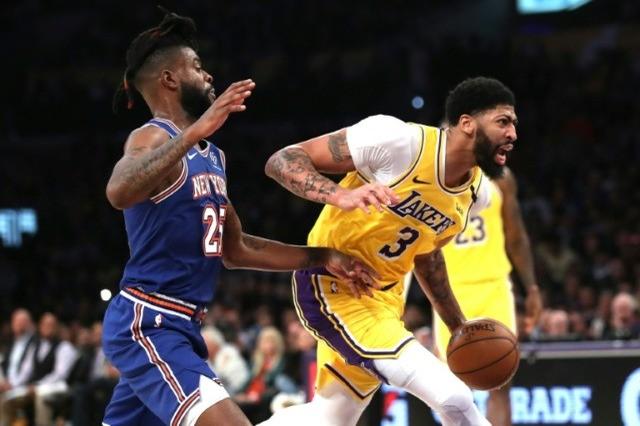 Los Angeles Lakers forward Anthony Davis missed his third consecutive match with a bruised backside while guard Rajon Rondo, with a hand injury, also sat versus the Cleveland Cavaliers on Monday.
Frank Vogel said that Davis has made progress, but is still dealing with some soreness. However, he expects his team to compete at the same level they played at when they upset the Thunder this past weekend.
"We've been without AD for a couple of games now, so hopefully we've found a little rhythm with what those lineups are going to look like, with (Kyle Kuzma) starting at the four and (Jared Dudley) backing him up," Vogel said.
Rajon Rondo was also out of Monday night's game versus the Cleveland Cavaliers after an MRI revealed a non-displaced volar plate avulsion fracture of the right ring finger. 
Rondo suffered the injury against the Oklahoma City Thunder on Saturday.
Get all the latest Betting and Sport News updates on your social media outlets.
Davis worked out on the court before the Cavs game, but Vogel said the Lakers' star big man "still had some soreness" and was "still not ready" to return. Vogel, who said the Lakers would take the "long-term, marathon approach" with Davis' injury when asked about it last week, was asked how healthy Davis would need to be in order to return to the court.
"I don't know if it's going to be 100 percent pain free," Vogel said. "It's really just going to be day-to-day and he'll communicate with the medical team and we want him as close to pain-free as possible. But I don't know if it's 100 percent, 99 percent. They'll tell me when he's ready."
L.A. started LeBron James, Avery Bradley, Danny Green, Kyle Kuzma and McGee in a 128-99 victory over the Cavaliers.
Check WagerWeb and find the best online betting site.