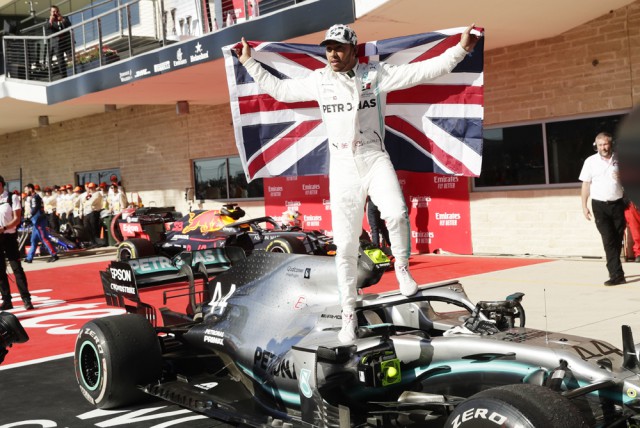 Lewis Hamilton can be ranked among the best drivers to ever get behind the wheel of a Formula 1 car. At this year's United States Grand Prix, Hamilton further cemented his on-going legacy by clinching his sixth world drivers title with two races to go in the 2019 season.
Not only that, this is also Hamilton's third championship in a row. Among the current crop of drivers, Only Sebastian Vettel has the most successive titles with four in a row.
Six titles also means that Hamilton has also defeated Juan Manuel Fangio in the most number of titles, and is now only one behind Michael Schumacher who has seven. Ever since the start of the turbo-hybrid era, the combination of Hamilton and Mercedes-AMG have been dominating the sport.
Just two weeks ago, the team bagged the constructor's championship, their sixth straight title. That record places them tied with McLaren with most consecutive constructor's championships.
Get all the latest Betting and Sport News updates on your social media outlets.
Hamilton's season started off strong by finishing in the top two spots over the span of eight races.
He never suffered a single retirement this year, and placed in the points in the 19 races run so far. Aside from one particularly disastrous round during the German Grand Prix where he finished ninth, Hamilton would always be in the top five finishers.
Next year will be the last of the existing generation of Formula 1 cars. While there is no question that Mercedes-AMG and Lewis Hamilton will still be a force to be reckoned with in 2020, it will be interesting to see how the rest of the field will adapt to the new car and rule changes by 2021.
The Circuit of the Americas had a special parking spot next to the podium reserved for the championship car.
There was only one car that could be. It was a silver Mercedes No. 44. "I remember watching this sport when I was younger," Hamilton said. "It's beyond surreal to think that this journey, that my life journey has brought me to this point."
Check WagerWeb and find the best online betting site.