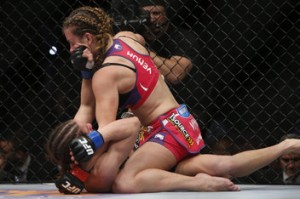 Miesha Tate is no longer certain that her dream of winning a world championship in mixed martial arts is attainable, and that feeling has her at a major crossroads.
It's been two months since UFC female bantamweight champion Ronda Rousey announced on "Good Morning America" her that next opponent would be Holly Holm — not Tate, who had been publicly guaranteed the next shot by UFC president Dana White after her win against Jessica Eye the previous month.
Either way, Tate knows in her heart that she is the true number one contender for Rousey even if others don't think she is due to her losing to Rousey twice.
From MMA Casino Betting, Racebook Gambling, WagerWeb offers you the online gambling option.
"I understand why they want to make the Rousey-Holly fight but that doesn't change the way they handled it," Tate told ESPN. "I think it happened the way it did because they didn't want to risk the information getting out, but in a way, that's also insulting to me. I've been fighting for a long time and I've proven my character. I'm a professional and I can separate my disappointment from my actions.
"I don't think the UFC did this to be malicious, but I also don't think they gave me any consideration. This was another day in the office to them but to me it's like, 'you just ruined my life,' and I feel like they need to understand that a little."
She feels that she deserves to fight Rousey for a third time and is worried that the UFC sees her as a gatekeeper in the division.
"I fear that they want me to fight all the other top girls and the connotation is that if they beat me, they get a title but if I beat them, it's 'bring on the next one.' Essentially, I feel like they have deemed me as a gatekeeper and that's fine for awhile because I put myself there. I won and lost those fights. But there has to be some light at the end of that tunnel. If there's not, what is my future in this sport?"
"It's a very fine line," Tate said. "All I can say is I don't want it to go in that direction but anything is a possibility. If it's clear there's no way for me to get a title shot as long as Ronda has the belt, then I don't know. I suppose I have to look at my options. And that's not saying I will retire, but it's something I'd have to think about."
Tate made it clear that she is a company person as she has shown that in the past, but also made it clear that will stand up for what she believes in and will not let the UFC bully her around.
"When push comes to shove, I will stand my ground," Tate says. "I'm a company woman. I went to Japan and fought on Fight Pass for relatively low exposure. I fought Sara McMann when nobody wanted to fight her. I make myself as available as possible. But there comes a point when I can not sacrifice what I believe in my heart to be right.
"I'm not saying the UFC is trying to bully me, but if they really want something and they get it in their head, that's all they want and for me it's not that simple. When I don't feel right about something or if my heart's not into it, I'm not going to do it."
Tate (17-5) is currently on a four-fight winning streak. In her last six bouts, she's 4-2. She is scheduled to fight Amanda Nunes (11-4), who is 4-1 in her last five bouts and is currently on a two-fight winning streak, at a to be determined event in December.
Get all the latest Betting and Sport News updates on your social media outlets. Find us on both Facebook and Google+!
ORIGINALLY PUBLISHED BY: espn.go.com