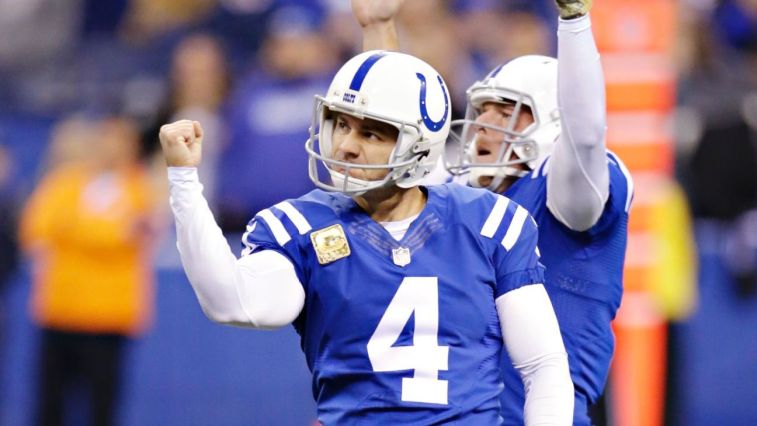 Kicker Adam Vinatieri, the NFL's all-time scoring leader, revealed Wednesday on "The Pat McAfee Show" that he is retiring after 24 seasons.
"By Friday, if paperwork goes in, you heard it here first," Vinatieri told McAfee, his friend and former teammate with the Indianapolis Colts.
Vinatieri, 48, a three-time Pro Bowl selection and a first-team All-Pro pick three times, scored 2,673 points and made a record 599 field goals for the New England Patriots and Indianapolis, where he played his final 14 seasons.
He made 29 game-winning kicks in his career, with three of them coming with the Patriots from 1996 to 2005. He made a game winner in blizzard-like conditions versus Oakland in the 2001 AFC playoffs and made game-winning field goals in Super Bowls XXXVI and XXXVIII. No kicker has more Super Bowl rings than Vinatieri's four — three with the Patriots and one with the Colts.
Get all the latest Betting and Sport News updates on your social media outlets.
"Adam Vinatieri is the greatest kicker of all-time who made the greatest kick of all-time in the 2001 divisional playoffs," Pats head coach Bill Belichick said in a statement. "His consistency, mental toughness and performance under pressure was legendary. I am honored to have coached Adam, going all the way back to his rookie year in 1996 and through some of the most special moments in Patriots and league history. Adam is in the rarest of echelon of athletes whose career accomplishments may never be matched."
Tampa Bay Buccaneers quarterback Tom Brady, who played with Vinatieri from 2000-05, took to Instagram to salute Vinatieri, writing, "When you look up clutch in the dictionary it should have your picture. An incredible teammate with an incredible work ethic. Honored to have played with the (GOAT)."
Vinatieri was part of 242 regular-season victories, and he broke career records for field goal attempts (715) while becoming the third-oldest player to appear in an NFL game. He scored points in 47 different stadiums, too. Vinatieri played in six AFC Championship Games, five Super Bowls and a record 397 matches including the playoffs. He also was selected to the NFL's 100th anniversary team.
His 21 100-point seasons shattered the previous mark of 16.
He made a league-record 10 game-winning kicks in overtime. He holds the league mark for consecutive field goals (44), and nobody has been better in the postseason, in which he was 56 of 69 on field goal attempts and has 238 points, all records.
Vinatieri also played in 365 regular-season games, second behind Morten Andersen (382), and is the only player in league history to top the 1,000-point mark with two different franchises.
Vinatieri also managed to chase down Herschel Walker with a textbook, touchdown-saving tackle in 1996. Vinatieri didn't play last season after a disappointing 2019 season.
He was placed on injured reserve in December 2019 after a season-long knee injury that started in training camp. The Colts stuck with Vinatieri even though he made a career-low 68% of his field goal attempts that season.
He missed a total of 14 kicks: eight field goals and six extra points, and two of his misses cost the team victories versus the Los Angeles Chargers and Pittsburgh Steelers. He also had three kicks blocked in 2019, including one that was returned 63 yards for a touchdown against the Tennessee Titans in Week 13.
Check WagerWeb and find the best online betting site.