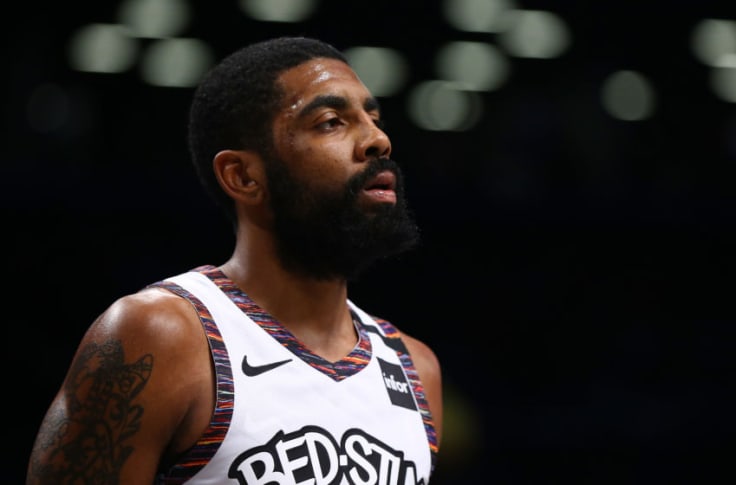 As the NBA is reviewing videos circulating on social media of a maskless Kyrie Irving at what appears to be a family birthday party, there is no belief the Brooklyn Nets guard will return to the team's lineup this week, sources told ESPN.
Irving was already ruled out for the fourth consecutive game Tuesday night versus Denver, and sources said that, at a minimum, he is expected to miss Wednesday's game against New York and Saturday's against Orlando. His absence has been attributed to personal reasons.
In the videos — which started being widely shared Monday night — a smiling Irving is dancing with his sister Asia on a confetti-covered floor and clapping as she blows out candles. If the video is found to be recent, that behavior could be a breach of the league's coronavirus protocols.
Get all the latest Betting and Sport News updates on your social media outlets.
The league's COVID-19 guidelines forbid players from going to clubs, bars and lounges.
They also ban players from attending social gatherings of more than 15 people.
"We are aware of a video on social media featuring Kyrie Irving at a family gathering," Nets general manager Sean Marks said in a statement Tuesday. "We are reviewing the circumstances with both Kyrie and the NBA in order to determine compliance with health and safety protocols."
"Kyrie will have the opportunity to address his absence when he is ready to do so," Marks added.
Nets coach Steve Nash, during his pregame media availability Tuesday, said he hadn't seen the video in question and wasn't going to expand on Marks' statement.
Asked if he is confident Irving will return at some point this season, Nash replied: "Sure."
On Tuesday night, Irving appeared to attend a virtual fundraiser for Manhattan District Attorney candidate, Tahanie Aboushi. Aboushi shared a photo from the event, which started at 7 p.m. ET, on social media.
The photo appeared to show Irving in one of the video boxes. The Nets tipped off versus Denver at Barclays Center 30 minutes after the fundraiser's start time.
The investigation into the Irving videos at the family event comes during a turbulent week, as the league is reevaluating its coronavirus health and safety rules. The league has postponed three games this week as positive COVID-19 tests and contact-tracing quarantines mounted.
The NBA in conjunction with the NBPA announced tightened coronavirus protocols Tuesday, including further limiting movement for players and staff members on road trips. If a player misses a game for a COVID-19 violation, he would lose 1/72nd of his salary, according to league rules.
Check WagerWeb and find the best online betting site.