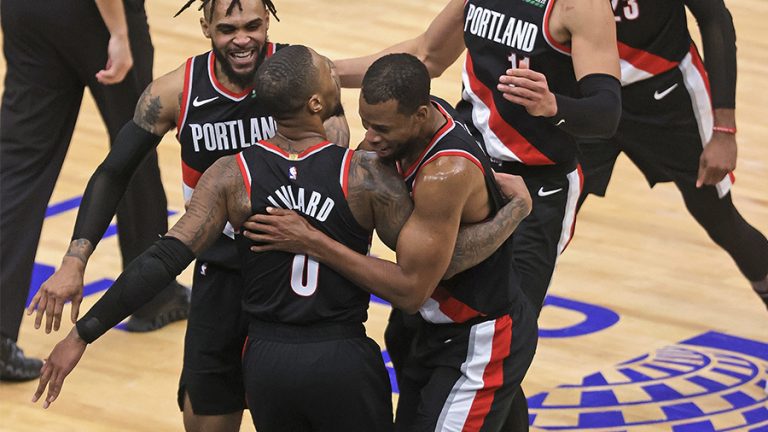 Down five points to the Chicago Bulls on Saturday night with 8.9 seconds left, the Portland Trail Blazers entered what NBA fans have come to know simply as "Dame Time."
Damian Lillard hit a 37-foot 3-point shot with less than 10 seconds left to put the Blazers within two points. The Blazers then tied up Bulls star Zach LaVine and won the jump ball — which eventually ended up in Lillard's hands.
Lillard proceeded to drill a buzzer-beating, step-back 3 over the long arms of Lauri Markkanen to defeat Chicago 123-122.
"This one is special because in these situations where we're down five, I think, with 11 seconds left, those are the moments where the winning team thinks they've got the game pretty much wrapped up," said Lillard, who scored 14 points in the fourth. "And the opposing team is discouraged."
Not Lillard. Blazers coach Terry Stotts struggled with words to describe Lillard's clutch gene after the triumph.
Get all the latest Betting and Sport News updates on your social media outlets.
"It's innate. It's God-given," Stotts said. "He's born with it, and you can't teach it."
Lillard finished with a game-high 44 points, 9 assists and 5 rebounds and hit his third career game-winning buzzer-beater, including the playoffs. That is the most in Trail Blazers history, according to ESPN Stats & Information research.
For Lillard, it was also his 35th career 40-point game, more than double of any other player in franchise history. Clyde Drexler has the next-most with 17.
Lillard's teammates Enes Kanter and Gary Trent Jr. weren't surprised by his late-game heroics.
Inside the fanless United Center in Chicago, Kanter was among the first of his teammates to greet him with a hug. Kanter stated he's "used to that shot" but also recognizes that it's "unbelievable what he can do."
Chicago trailed by as many as 19 points on the night before, clawing back to make it a close game in the second half. Markkanen ended with a team-high 31 points with six rebounds, and LaVine contributed 26 points with 7 rebounds and 4 assists.
Portland was playing without Jusuf Nurkic (right wrist fracture), CJ McCollum (midfoot sprain), Derrick Jones Jr. (left foot sprain) and Zach Collins (left ankle stress fracture).
According to the Elias Sports Bureau data, this is the first time a jump ball and a game-winning buzzer-beater occurred on the same possession inside the final 10 seconds since April 30, 2006. On that date, the Los Angeles Lakers won a jump ball against the Suns, and Kobe Bryant hit the game-winning buzzer-beater.
Check WagerWeb and find the best online betting site.