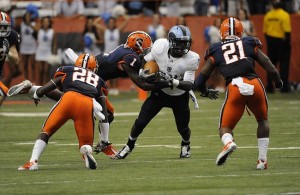 Check WagerWeb and find the best online betting site!!!!
(foxsports.com )- RACUSE, N.Y. (AP) Year three of the Scott Shafer era at Syracuse is at hand, and there's nowhere for the Orange to go but up.
In the rearview mirror is a 3-9 record after a 2-0 start, only one win in the Atlantic Coast Conference, and five straight losses to end 2014.
Time to flip the switch.
"I don't even think about last year. I don't speak about it," said senior quarterback Terrel Hunt, who was ejected in the 2014 season opener and missed the last seven games with a broken calf bone. "We're just playing. We don't think we have to put on a show for anybody. Some people are going to like what we do. Some people won't like what we do."
From Online Sportsbook, Casino Betting, Racebook Gambling, WagerWeb offers you the online gambling options
The new season begins Friday night in the Carrier Dome against Rhode Island, and Shafer is prepared for a difficult game, even if the Rams do play at Division I's second tier.
"Going into the game, they are fired-up and ready to go," said Shafer, an assistant at Rhode Island for three years in the mid-1990s who was Syracuse's defensive coordinator four years ago when the Rams visited the Carrier Dome and lost by only a touchdown. "Playing in the Dome will be a great experience for those kids. We have to have our Ps and Qs together and be ready to roll."
Syracuse began last season against Villanova, a solid team from the Football Championship Subdivision, and won by one point – in double overtime – on a touchdown pass from punter Riley Dixon.
Hunt watched it all unfold after his ejection in the second quarter and is anxious to begin making amends.
"It's my first game back, so I just want to slaughter," he said. "You can't say that, but I want to have a really good game because everybody is so stuck on last year. We're ready to move forward and see what we have this year."
Some things to know when Syracuse hosts Rhode Island on Friday night:
DEFENSIVE LINE: Syracuse returns only two defensive linemen with significant playing experience at the position, and end Ron Thompson and tackle John Raymon have been hurting. Although both missed a lot of preseason camp, they'll be available against Rhode Island. "We'll have to be careful with the reps because they're obviously not in football shape," DC Chuck Bullough said. "So we'll have to pick and choose when to play them. They can't play the whole game." Bullough expects four freshman defensive linemen to see lots of action, but Thompson and Raymon will be in there if the Orange are behind or it's close.
TWO DEEP: Syracuse's lineup includes 11 players who started at least six games in 2014 and 24 who have made at least one career start. It also includes six freshmen, including quarterback Eric Dungey, who will share backup duties with sophomore Austin Wilson. The lone member of Syracuse's front five without starting experience is right guard Seamus Shanley.
ORANGE CAPTAINS: Hunt, C Rob Trudo, DE Luke Arciniega and LB Zaire Franklin are the new Syracuse captains, elected by a team vote. Hunt is in his third year as the starter and ranks 10th in school history with 2,621 passing yards. He's also second among active ACC players in total career offense (3,413). Franklin is the Orange's first sophomore captain in 70 years. "That's a long time. That's heavy," he said.
RAM POWER: Rhode Island, which finished 1-11 last year, starts junior college transfer QB Paul Mroz, who last year led Victor Valley College in southern California to a 10-0 record, passing for 2,434 yards and 26 touchdowns. Safety Tim Wienclaw recovered four fumbles last season, most in the nation, and also led all Colonial Athletic Association defensive backs by averaging nearly nine tackles per game.
STAT OF THE WEEK: Syracuse has not lost to an FCS team since a 14-13 setback at Holy Cross in 1958, a span of 31 games. The Orange are 13-0 in the Carrier Dome against FCS teams.
Get all the latest Betting and Sport News updates on your social media outlets. Find us on both Facebook and Google+!
ORIGINALLY PUBLISHED BY: foxsports.com