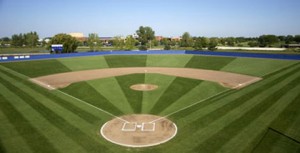 Check WagerWeb and find the best online betting site!!!!
Small ball is a term used by baseball announcers and managers to describe a reliance on advancing runners and manufacturing runs without needing consistent home run production. Bunting, intelligent base running, and fundamental hitting, such as hitting behind the runner, are key elements of playing small ball. Teams who use small ball often do not have the deepest offensive lineup and will look to produce a run in almost any way possible.
An offensive baseball strategy that favors situational hitting and baserunning tactics over pure hitting in an effort to make efficient use of scoring opportunities in any given inning
Small ball strategy in baseball focus on higher percentage ways of getting runners on base (singles and walks) and advancing them into scoring position (bunts, steals, hit-and-runs, etc) and manufacturing runs (sacrifice flys, squeezes, etc) . It requires precision, methodical execution and ultimately discipline.
From Online Sportsbook, Casino Betting, Racebook Gambling, WagerWeb offers you the online gambling options
Teams may incorporate a small-ball strategy for a variety of reasons, including:
They are confident that their pitching staff will allow very few runs, thus one or two runs may win the game.
The opposing pitching staff allows few hits, especially extra-base hits, and small ball may be the best way to score runs at all.
The team lacks consistent hitters and must find a way to score runs with few base hits.
The team has several members who are very quick and are likely to steal bases, or go from first base to third base on a single.
The team is in the late innings of a close game and a single run will tie the game, break a tie, or extend a narrow lead.
Most commonly, managers will switch to small-ball tactics while a game is in progress, doing so upon the convergence of a variety of factors including having appropriate hitters coming up next in the batting order and, often, having fast runners already on base. A team could also start the game with the intention of playing small ball but then change from this strategy at some point during a game, depending on circumstances, such as when the opposing pitcher is struggling or has left the game or when the team is ahead or behind by several runs.
Get all the latest Betting and Sport News updates on your social media outlets. Find us on both Facebook and Google+!