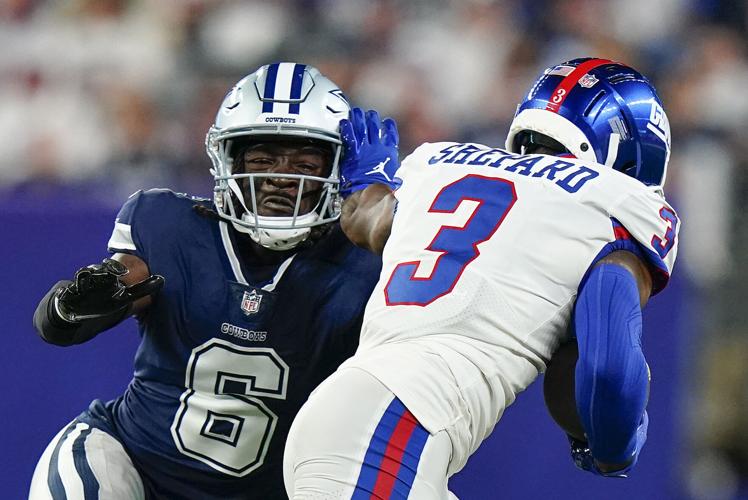 New York Giants wide receiver Sterling Shepard suffered a torn ACL in his left knee in Monday night's game versus the Dallas Cowboys, coach Brian Daboll stated Tuesday.
The injury will end his season and perhaps his time with the Giants. Shepard, the longest-tenured player on the team, is in the final year of a restructured deal he signed this offseason off a torn left Achilles.
"He's a tremendous person. He's worked so diligently to get back," Daboll said. "Feel so terrible for him that he's had that injury. Big part of our team. Going to miss him out on that field."
The Giants plan to look internally for Kadarius Toney (hamstring), Wan'Dale Robinson (knee) and the struggling Kenny Golladay to fill the void. Shepard was serving as the team's No. 1 receiver.
The noncontact injury happened in the final minutes of New York's 23-16 loss to Dallas. It came on a seemingly innocuous play where Shepard was simply jogging near the right sideline when he crumbled to the ground. "I'm thinking the same thing as you watch it. He's just slowing down," Daboll said.
"It could have happened, I'm not saying it happened, but you see a couple plays before where he kind of turns when he's running an in-cut and he's extended. But he went out there on the next play and did something. Again, kind of looked like a freaky accident there."
Get all the latest Betting and Sport News updates on your social media outlets.
This latest odd injury to Shepard only exacerbates the turf vs. grass debate.
"I know there have been a lot of studies. Not just here but probably in every stadium," Daboll said on Tuesday. "I think, again, you look at Shep's injury, he was jogging. I'm sure throughout the season and the offseason we'll sit down and discuss those types of things."
The turf at MetLife Stadium in particular has been the subject of some complaints in the past, including by the San Francisco 49ers after five players suffered game-ending lower-body injuries in the same game versus the New York Jets during the 2020 season. The knee injuries suffered by Nick Bosa and Solomon Thomas were season-ending.
Most recently, the Baltimore Ravens weren't happy after cornerback Kyle Fuller tore an ACL there in a game versus the Jets in Week 1.
"Everybody in this league should do everything they can to put the best surface out there. How much is invested in the players who go out there and play, and our league really is a player-driven league, and we want those guys to have the best of the best, especially surfaces to play on," coach John Harbaugh said.
Harbaugh added about the MetLife field surface: "That turf was matted down, it was packed down, it was a little tight. Maybe that's how it's supposed to be. I don't know, but that's what I saw. It was a little tough."
The Ravens will play again at MetLife Stadium this season in Week 6 when they face the Giants.
The injury had Shepard's close friend and former teammate Odell Beckham Jr. expressing his disgust with stadiums using turf over grass.
"Billions made off this game I can't understand why we can't play on grass," he tweeted, also offering prayers for Shepard.
Shepard was cleared to practice late this summer after tearing his left Achilles last December. He leads the Giants with 154 receiving yards through three matches. He has also played the most snaps (157) of all the team's receivers.
The injury occurred on the Giants' final offensive play Monday night. The result of the play was essentially a game-ending interception by Dallas' Trevon Diggs. Shepard limped onto the cart and players from both teams came over to offer words of encouragement. The Giants (2-1) move forward now hoping to get either Toney or Robinson back this week. Both missed Monday night's game due to injury.
Robinson, the Giants' second-round pick in the 2022 draft out of Kentucky, was injured in the opener versus the Tennessee Titans. Toney, their first-round pick in 2021 out of Florida, recently aggravated the hamstring that plagued him this summer.
Check WagerWeb and find the best online betting site.