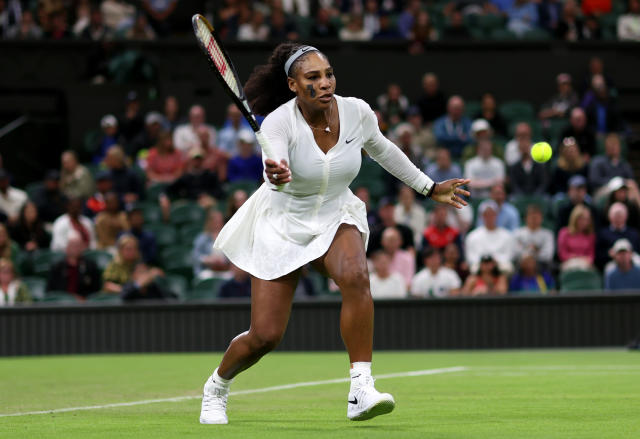 Serena Williams, playing her first competitive singles match in 364 days, was handed another devastating early exit at Wimbledon with a 7-5, 1-6, 7-6 (10-7) loss to Harmony Tan on Tuesday that took more than three hours and a 10-point third-set tiebreak to decide.
"Today I gave all I could do, you know, today," a dejected Williams told a packed room of reporters after the match. "Maybe tomorrow I could have gave more. Maybe a week ago I could have gave more. But today was what I could do.
"At some point, you have to be able to be OK with that. And that's all I can do. I can't change time or anything, so, that's all I could do on this particular day."
Playing Tan — who is ranked No. 115 and was making her main draw debut at the tournament — in front of an adoring crowd on Centre Court, Williams simultaneously showed signs of rust alongside glimpses of her signature brilliance.
When it was over, both players were given a standing ovation from those in the stands. The 40-year-old Williams, the owner of 23 Grand Slam singles titles, waved several times as she walked off the court and twirled before disappearing in the exit.
There has been much speculation as to Williams' retirement, and she didn't do much to dispel such speculation after Tuesday's match, giving vague answers to multiple questions about her future.
Get all the latest Betting and Sport News updates on your social media outlets.
"That's a question I can't answer," Williams said after the loss. "Like, I don't know. I feel like, you know, I don't know. Who knows? Who knows where I'll pop up."
Williams hadn't played competitively at singles since being forced to retire from her first-round match at the All England Club in 2021 due to what she later revealed to be a torn hamstring. While she had initially hoped to return in time for the US Open last year, the recovery was far lengthier than she had anticipated, and she took a break to give herself time to heal.
But she couldn't escape the lingering disappointment of her 2021 Wimbledon exit.
"It was a lot of motivation, to be honest," Williams said before this tournament got underway. "It was always something since the match ended that was always on my mind. So it was a tremendous amount of motivation for that."
She decided in the spring to make a return to the All England Club, after a whirlwind year full of recovery and off-the-court interests and pursuits. She started her competitive comeback last week in doubles at Eastbourne, alongside Ons Jabeur, to great fanfare.
The two reached the semifinals before they were forced to withdraw due to a knee injury for Jabeur, but Williams still considered she had gotten some valuable match experience.
Still, Williams needed the first several games of Tuesday's match versus Tan to rediscover her form, and her early play was riddled with errors.
"I had some chances to win that first set," Williams said. "You know, [it] didn't work out, so … yeah, it was just, yeah, different, totally different for me."
But as she has done countless times throughout her career, Williams fought back with a dominant performance in the second set, including winning a marathon 30-point second game.
She looked to be in control in the third, holding a 3-1 lead, but Tan came back to win the next three games. From there, it was a battle in which the crowd seemed to live and breathe with every point, and both players reacted emphatically throughout.
It reached a fever pitch when Williams saved match point at 5-6 to ultimately force a deciding tiebreak.
In the first-to-10 tiebreak, Williams jumped out to a 4-0 lead. However, in the final moments, it slipped out of her control, and Tan dominated.
If this is the end for Williams, it will mark the conclusion of one of the greatest careers in the sport. With 23 major titles, including seven at the All England Club, Williams has the most ever by any player in the Open Era.
She has been seeking to tie Margaret Court's long-standing record of 24, the most in history, since returning from childbirth in 2018. Since then, Williams has played in four finals in those 14 majors, including at Wimbledon in 2018 and 2019, but has fallen short each time.
Williams didn't completely rule out an appearance at the US Open later this summer, however.
Check WagerWeb and find the best online betting site.