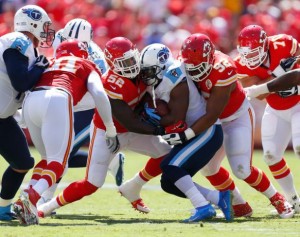 Who: Tennessee Titans vs. Kansas City Chiefs
When: Friday, August 28, 7 PM CT
Where: Arrowhead Stadium; Kansas City, Missouri
Last Meeting: The Titans and Chiefs squared off in Week 1 of the 2014 season at Arrowhead Stadium. The Titans defeated the Chiefs 26-10. Alex Smith threw three interceptions in the game, and it was one of only two wins the Titans had in the entire 2014 season.
When you glance at the NFL preseason schedule in its entirety, from the first day of training camp until the last day before the regular season begins, the first 45 minutes of the third preseason game could be the most critical.
In what has become custom with nearly every team in the league, those minutes serve as the final warm-up, the final run-through that the starters will likely see before Week 1 of the regular season.
The Tennessee Titans head to Arrowhead Stadium to take on the Kansas City Chiefs in both teams third preseason game.
From Online Sportsbook, Casino Betting, Racebook Gambling, WagerWeb offers you the online gambling option.
As Kansas City Chiefs (2-0) head coach Andy Reid confirmed on Wednesday, he plans to play his first team for the majority of the game against the Tennessee Titans (1-1) on Friday night.
The Chiefs are 2-0 so far in the preseason. Their most recent win was 14-13 against the Seattle Seahawks. Jeremy Maclin looked more involved in the offense and scored his first touchdown for the Chiefs.
The Tennessee Titans are 1-1 so far in the preseason. They are coming off a 27-14 victory over the St. Louis Rams. The Titans are looking to rebuild and rookie quarterback Marcus Mariota is now the cornerstone of the franchise.
With a month of preseason work having come and gone, the Chiefs and Titans will hold their final dress rehearsal on Friday night at Arrowhead Stadium.
Get all the latest Betting and Sport News updates on your social media outlets. Find us on both Facebook and Google+!