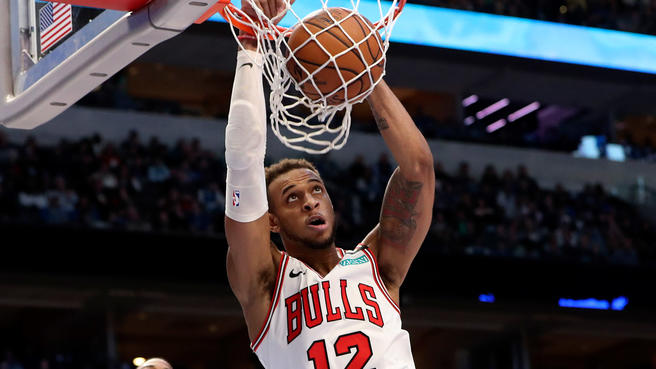 Two minutes into Wednesday night's home match versus the Washington Wizards, rookie center Daniel Gafford ran off the court gripping his right thumb.
Based on the broadcast's feed, it's hard to tell exactly what happened, but according to NBC Sports Chicago's Tony Gill, those on the floor could see that Gafford's thumb "went backward."
Shortly after he left the game, the Bulls informed he would not return and simply reported a "right thumb injury." However, The Athletic's Sham Charania swooped in a couple of minutes later and announced Gafford would miss 2-4 weeks with a dislocated right thumb.
With the Bulls already down Wendell Carter Jr. until at least mid-February, they were relying heavily on Gafford to handle the team's rim-protecting duties.
But now, the team will be down to just Luke Kornet and Cristiano Felicio as the only two centers on the roster. Of course, as a seven-footer, Lauri Markkanen can be shifted over to play underneath the basket as well, though it's never been his strong suit.
Get all the latest Betting and Sport News updates on your social media outlets.
Gafford was picked by Chicago in the second round of last year's draft.
He was averaging 4.9 points and 2.5 rebounds coming into the game.
Carter again is out, this time with a severely sprained right ankle that will sideline him for four to six weeks. With both Carter and Gafford out, coach Jim Boylen used Luke Kornet initially. He also featured some lineups with Lauri Markkanen at center.
"It's real disappointing," Gafford said, who had been starting for Carter. "As much as I want to be out there, I'm going to have to take this time to recover and make sure I can go back out there and do the things that I've always been able to do. It's taken a toll on me right now."
Check WagerWeb and find the best online betting site.