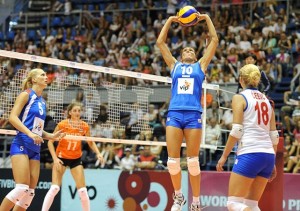 Check WagerWeb and find the best online betting site!!!!
The final round of the women's FIVB World Volleyball Grand Prix 2015, the Volleyball Federation's premier annual competition is currently being played in Omaha, Nebraska, USA between July 22 and July 26 with six teams: Brazil, China, USA, Italy, Russia and Japan taking part.
From Online Sportsbook, Casino Betting, Racebook Gambling, WagerWeb offers you the online gambling options
The Americans get precious few opportunities to play top-tier international competitions on United States soil; the last one was the 1996 Atlanta Olympics. U.S. head coach Karch Kiraly is making the most of this unique opportunity.
"We're embracing a rare chance for family and friends to cheer us on," Kiraly said. "We're building in some family time every day, but we also have a job to do."
FIVB World Grand Prix Finals Round Schedule (all times CT)
July 22
Brazil vs. China, 3 p.m.
Italy vs. Russia, 5 p.m.
USA vs. Japan, 8:05 p.m.
July 23
Brazil vs. Russia, 3 p.m.
Japan vs. China, 5 p.m.
USA vs. Italy, 8:05 p.m.
July 24
Brazil vs. Japan, 3 p.m.
China vs. Italy, 5 p.m.
USA vs. Russia, 8:05 p.m.
July 25
China vs. Russia, 3 p.m. CT
USA vs. Brazil, 5 p.m. CT
Italy vs. Japan, 8:05 p.m.
July 26
USA vs. China, Noon
Italy vs. Brazil, 3 p.m.
Japan vs. Russia, 5 p.m.
Don't miss our special articles about Texas Hold'em and blackjack, become the best Get all the latest Betting and Sport News updates on your social media outlets. Find us on both Facebook and Google+!