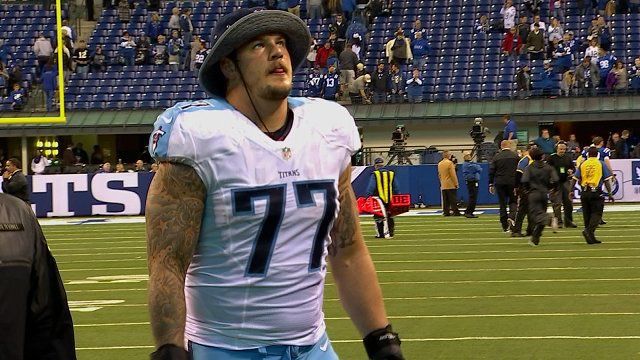 Tennessee Titans left tackle Taylor Lewan has been cleared to return and will play Sunday in Jacksonville after missing last week's game with a concussion.
Lewan was knocked out on a crack back block by Miami's Andre Branch following in a interception in the season opener.
While Lewan will be back, the Titans still don't know whether quarterback Marcus Mariota will be in the lineup Sunday for a key AFC South matchup.
"I feel good. I wouldn't have passed the protocol if I didn't. Maybe a couple of years ago, but I've got a wife and a kid now, and I don't want to be that guy that's 45-years old and doesn't know his own name," Lewan said.
Lewan said he was told by Titans coach Mike Vrabel on Tuesday after the hit on Sunday that he would be held out of last week's game against Houston. He said he appreciated Vrabel looking out for his well-being.
Get all the latest Betting and Sport News updates on your social media outlets
"I did have something (concussion) like that back in 2015, I had something going on," Lewan said. "I will say this. When this happened a couple of weeks ago, I got a text from Vrabel on Tuesday, saying, 'You're not playing this week. Being stressed out about coming back is not going to help a concussion. I definitely didn't get that kind of support in 2015. It was very, very cool to see a coach look out for the interest of his players. I'm not used to having that."
Lewan missed the final game of the 2015 season with a concussion.
"Being out that week and being on the sideline, it was awesome to see these guys go out there – Tyler Marz getting his first start, how awesome was that? I think there was like one sack and one pressure. I'm fired up for those guys. They came together and played hard," Lewan said.
Meanwhile, the Titans still don't know whether Mariota will have to sit out a second straight week with an arm injury that has caused tingling in his hand and fingers. He is questionable for the second straight game after being limited all week. Blaine Gabbert could start for the second week in a row.
Check WagerWeb and find the best online betting site