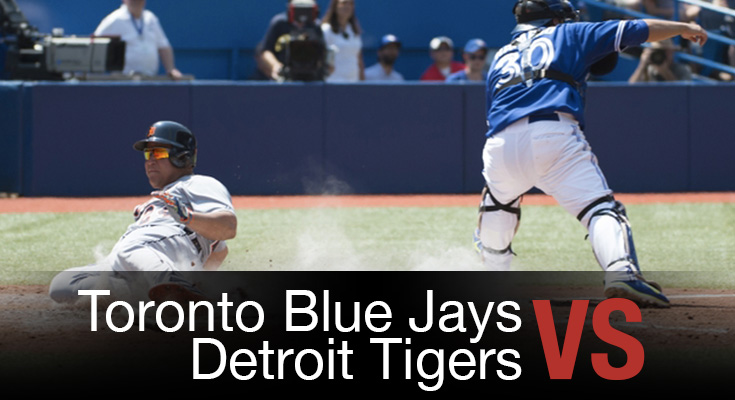 The surging Toronto Blue Jays hope to continue their winning ways at the Detroit Tigers on Tuesday.
The Toronto Blue Jays are taking aim at the top spot in the American League East and have won five of six on the strength of their solid starting pitching. The Detroit Tigers, who host the Blue Jays in the opener of a three-game series on Monday, are making their way up the standings as well and swept a three-game series over the weekend to reach .500.
Monday, 7:10 p.m.
J.A. Happ (6-2, 3.06) vs. Michael Fulmer (5-1, 3.24)
Tuesday, 7:10 p.m.
Aaron Sanchez (5-1, 2.99) vs. Matt Boyd (0-1, 3.94)
Wednesday, 1:10 p.m.
R.A. Dickey (3-6, 4.21) vs. Jordan Zimmerman (8-2, 2.58)
Get in the action, anywhere, anytime! Check our Live Betting Options!
The Toronto Blue Jays are the hottest team in the American League East and are right on the tails of Boston and Baltimore. The Blue Jays had won nine of eleven before taking one on the chin in an 11-0 defeat at Detroit on Monday night where both the arms and bats were nonfactors. Jays starter JA Happ was charged with six runs on six hits including a pair of homers over five frames before Gavin Floyd gave up three and Drew Storen two. Toronto had nothing going at the plate with three hits and four bases on balls with Michael Saunders smacking a triple while Darwin Barney singled twice. Aaron Sanchez toes the rubber against the Tigers for the first time in his career Tuesday. Sanchez comes off of a 7-0 win versus the Yankees with seven hits given up over 6.2 innings.
Support your Team! Start betting now!
The Detroit Tigers have been playing well enough to hang tough in the American League Central although making up ground has been a problem. The Tigers have now won four of five after Monday's one sided affair where not one thing went wrong in any area. Detroit starter Michael Fulmer was at his best with two hits and three free passes issued through six scoreless innings that upped his record to 6-1 and lowered his ERA to 2.83. The Tigers amassed 15 hits and walked four times with James McCann going deep and driving in three with Justin Upton going 2-4 with a homer, three RBI's and three runs. JD Martinez drove in two while Ian Kinsler and Nick Castellanos scored five times. The Tigers have scheduled Matt Boyd for Tuesday's outing against visiting Toronto. Boyd comes off a 5-4 loss to the Yankees (ND) where he gave up four runs on six hits in 6.1 frames.
Get all the latest MLB News and updates on your social media outlets.
Find us on both Facebook and Google+!