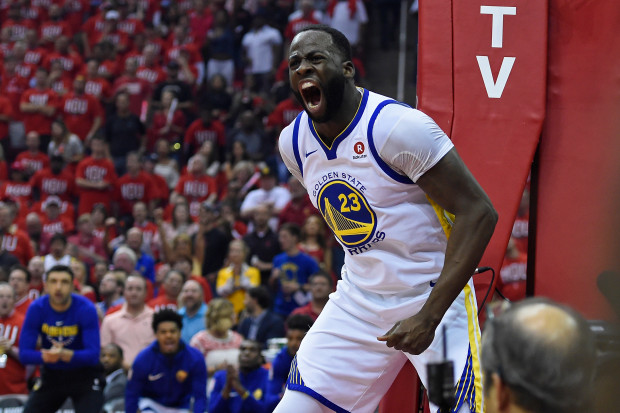 The Golden State Warriors began a playoff series on the road for the first time since 2014, but they had no trouble getting a win, as they took down the Houston Rockets, 119-106 in Game 1 of the Western Conference finals. It was an exciting, entertaining first half that featured both teams going back and forth before entering the break tied at 56-56. But coming out of the locker room, the Warriors used one of their patented third-quarter bursts to take control of the game. The Rockets kept things from getting out of control, and had things within striking distance for much of the rest of the way. But the Warriors were never really in danger of losing their lead, and held on for the win.
"It was definitely a different feeling, but I think it was a good challenge for us," Warriors forward Draymond Green said. "You get so much of the same stuff over and over again, you tend to take it for granted. To start off on the road for us in this series is kind of cool."
Get all the latest Betting and Sport News updates on your social media outlets
The Rockets provided enough challenges with star point guard James Harden (41 points) along with their prized offseason acquisitions in Chris Paul (23 points, 11 assists). Yet, the Warriors countered with a 2017 Finals MVP in Kevin Durant (37 points), an unassuming All-Star in Klay Thompson (28 points) and a two-time regular season MVP in Stephen Curry (18 points).
"No matter how we play, we feel like we've got a solid chance," Durant said. "We just try to focus on not being on the road or trying to win the first game of the series. We just focus in on what we need to do very possession and let the rest take care of itself."
How did the Warriors do it? It did not just involve their future Hall of Fame talent. It involved their past experiences, both good and bad.
Check WagerWeb and find the best online betting site.