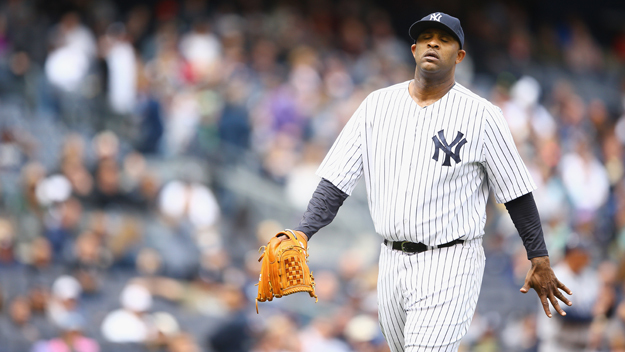 For the 24th time in a postseason, Sabathia will be handed the ball Tuesday. This time it comes as his Yankees try to right their ship following Monday night's jarring 16-1 loss to the rival Boston Red Sox. Down 2-1 in their American League Division Series, the Yankees are in must-win mode. Lose, and they're eliminated.
"I know CC about as well as anybody," fellow Yankees veteran Brett Gardner said. "I have the utmost confidence that he's going to go out there and give us a chance to win.
"There's probably no one better I'd rather have out there in a must-win game."
Gardner isn't the only one looking forward to having Sabathia on the mound for such a pivotal game. The husky lefty is embracing the opportunity as well.
"Yeah, I get excited for these games, for sure," Sabathia said. "Just try to stay even-keeled and go out and pitch as best as I can."
When it comes to elimination games, Sabathia's best has been OK, but it could be better.
In five career postseason starts with his team facing elimination, Sabathia is 2-2 with a 3.76 ERA. His teams have gone 3-2 in those games.
Although Sabathia might not have always shown overpowering stuff in those contests, he still has had his share of strong playoff performances. Since he joined the Yankees in 2009, he has a 3.29 postseason ERA. In that same time period, his regular-season ERA is 3.74.
After allowing four or more earned runs in three of his first five career postseason starts, Sabathia has allowed that many in just three of his past 18.
Get all the latest Betting and Sport News updates on your social media outlets
He believes that as he works through Boston's dangerous lineup, he can lean on some of that recent playoff success.
"We'll feel good about giving him the ball," Aaron Boone said. "We feel like CC physically is in a good place right now coming off a really good start at the end of the year."
Last time out, Sabathia took a no-hitter into the sixth inning at Tampa Bay before he hit a batter in retaliation, after teammate Austin Romine saw a fastball buzz past his head in the top half of the inning. Sabathia ended up being ejected for the retaliatory move, cutting short a masterful outing.
He had been pitching well enough to possibly finish the game. If given the opportunity to do so Tuesday, Sabathia would take it.
"When I start the game, I start the game to finish the game," Sabathia said. "Obviously that don't happen a lot for me anymore, but I mean, I want to pitch as long as I can and as deep as I can into the game."
The Yankees could use a deep — and memorable — performance. Their season could depend on it.
Check WagerWeb and find the best online betting site